Delta Air lines reported a third-quarter loss of $5.4 billion as the airline begins to regroup following a catastrophic summer brought on by the coronavirus global pandemic.
Kicking off the industry's third-quarter earnings season, Delta chief executive Ed Bastian says on 13 October that even though revenue for the quarter fell to $2.6 billion, down 79% compared to the same quarter in 2019, the airline is encouraged to see both leisure and business customers slowly return, and promises improvement for the rest of the year.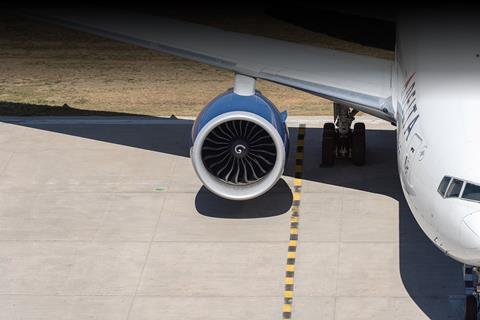 "While our September quarter results demonstrate the magnitude of the pandemic on our business, we have been encouraged as more customers travel and we are seeing a path of progressive improvement in our revenues, financial results and daily cash burn," Bastian says.
The airline ended the quarter with $21.6 billion in liquidity, and was able to reduce daily cash burn to $18 million from $27 million at the end of the second quarter. Bastian adds that the company expects the number to fall to about $10-12 million daily by the end of the year, "with a good line of sight to cash break-even by the spring".
The airline's all important corporate travel sector has also shown a "modest improvement" in the quarter, even though it is still only at about 15% of the level of previous years, says Delta president Glen Hauenstein.
"Corporate is trending upward and we expect this to continue into 2021," he adds.
Bastian adds that video meeting technologies, which largely replaced corporate travel in the first months of the pandemic earlier this year, will likely evolve to complement business travel long-term, but not replace it. Nevertheless, this segment of the company's revenue could see a 10-20% reduction from pre-pandemic levels, he says.
END-OF-YEAR BOOKINGS
Booking trends for the upcoming fall travel season – which includes the Thanksgiving, Christmas and New Year's holidays – are also trending positive, Hauenstein adds. The Thanksgiving holiday weekend at the end of November is traditionally the strongest travel weekend of the year in the United States.
"We are pleased with booking trends for Thanksgiving and Christmas because customers are confident in booking further out," he adds. The entire industry has made "great strides in restoring confidence in air travel", he adds, including by eliminating change fees for most fares. That gives customers the ability to make plans but also to cancel them at short notice with no penalty should they choose not to travel.
"We are probably closer to the end than the beginning of the pandemic, but we don't know exactly how it will evolve from here, so we need to stay nimble," he adds.
The airline has managed the first tentative steps to recovery by reducing complexity of its fleet, simplifying its cost structure, improving products and seeking to boost employee morale, executives say.
Delta says it will retire 383 aircraft, or about 30% of its current fleet, by December 2025, including more than 200 aircraft this year alone, thus simplifying the fleet and cutting down on training and maintenance costs.
The carrier's McDonnell Douglas MD-88s, MD-90's, Boeing 737-700s, and some 767-300ERs and Airbus A320s, were retired earlier this year, with the fleet's 777s to follow in December.
In 2023, the company's MHI RJ Aviation CRJ200s will follow, and by the end of 2025 the airline will ground 717s and the remaining 767-300ERs.
In late September, Delta had said in an SEC filing that it "concluded that the carrying value of these aircraft was no longer recoverable when compared to their estimated remaining future cash flows". As a result, the airline took a non-cash impairment charge of $2.2 billion during the third quarter.
The grounded jets will be replaced by various members of the Airbus family, including A321neos, long-range widebody A350-900s and, for shorter domestic routes, A220s.
Delta Air Lines Fleet Retirements
| Fleet Type | Number of aircraft | Expected retirement |
| --- | --- | --- |
| MD-88 | 47 | June 2020 |
| MD-90 | 26 | June 2020 |
| A320 | 10 | June 2020 |
| 767-300ER | 7 | June 2020 |
| 737-700 | 10 | September 2020 |
| 777 | 18 | December 2020 |
| CRJ200 | 125 | December 2023 |
| 717 | 91 | December 2025 |
| 767-300ER | 49 | December 2025 |
| TOTAL | 383 | |

Unlike most other major US carriers, Delta did not furlough employees after US government aid to airlines, made available through the so-called CARES Act, expired earlier this month.
Bastian says Delta avoided cuts after about 40,000 employees chose to take either early retirements or voluntary leave programmes. The carrier has come to agreements with all work groups except pilots, with whom negotiations continue.
That said, the industry is still suffering. An extension of payroll aid would be welcome, helping carriers operate with some semblance of normal, Delta's executives say.
"We support the extension of the CARES Act for airline workers, and I certainly hope that, given the strong bipartisan support that exists, that a vehicle for that extension can be found here soon, to be able to bring 32,000 airline employees back to work," Bastian says.
Delta chief financial officer Paul Jacobson says the airline cut salary expenses by $1.9 billion, or about 40%, in the last six months as a result of the reduction in employees.
Lawmakers in Washington, DC continue to squabble about an extension of the payroll support plan. Airlines have said that they don't expect a meaningful recovery to begin until a vaccine against the coronavirus is widely available. Some experts say that likely wont happen until well into 2021.
"The virus is not at the level of containment that we thought it would be, and we all need additional time to get our business in a better spot," Bastian adds.