Delta Air Lines has seen a few signals of recovery after the coronavirus pandemic almost completely shut down air travel during April, as it was able to reduce cash burn amid a small increase in bookings, but the airline's losses during the quarter indicate the industry's crisis is still far from over.
A spike in virus cases across the United States' so-called Sun Belt in the past four weeks, as well as newly imposed travel restrictions in the New York City and Chicago metropolitan areas for inbound passengers, have put a damper on initial optimism that travel would return to some semblance of normalcy in the coming months.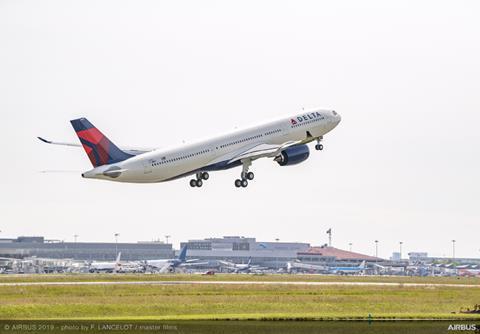 "The June quarter was remarkable for the confluence of crises that rocked our nation," chief executive Ed Bastian says on the company's quarterly analyst call on 14 July, after the carrier announced a whopping $7 billion loss for the quarter ending in April.
The recovery, he adds "will be choppy".
Atlanta-based Delta was the first of the US majors to announce results for the quarter, and is a harbinger of what is to come in the coming days. United Airlines, American Airlines and Southwest Airlines are scheduled to report second quarter results next week.
All four are caught in a tough spot as the global health crisis drags on into its fifth month. They all need to cut costs without potentially damaging long-term business prospects, all while hoping the travelling public will become tired of sheltering-in-place, and return to the air sooner rather than later.
Leisure travellers, who had increasingly begun to book vacations in June after months of restrictive travel bans were partially eased, are again pulling back summer plans as case counts in traditional holiday destinations like Florida and California skyrocket.
Meantime, business travel, the main driver of airlines' revenues, continues to be depressed as conventions, conferences and in-person meetings are delayed or suspended, and companies continue to be reluctant to send employees anywhere beyond home offices.
"Business travel has not returned in any meaningful way… We remain cautious on the pace of recovery for the balance of the year," says Bastian, adding that the airline saw a "small but welcome uptick in passenger volume".
"While it's encouraging to see customers return, the revenue environment remains challenging," he says.
Total adjusted revenue, excluding refinery sales, plummeted 91% to $1.2 billion for the three months ending 30 June, the airline said earlier today. Overall revenue for the third quarter will be about 20-25% of what the airline saw in the same period a year ago, Bastian adds.
Delta says it was able to reduce daily cash burn to about $27 million in June, down from about $100 million at the beginning of the crisis. The airline expects cash burn to remain steady in July as overall capacity will be about 65% less than during the same month last year. The airline has committed to blocking middle seats in economy class through the end of September, and capping capacity at 60% in its main cabin.
Bastian is banking on these measures to help customers feel safe, and attract back business.
"There will be a lot of dislocation and disruption, but we are well positioned to come out of this in a relatively stronger competitive position than we were pre-pandemic," Bastian says.
As airlines grapple with the extent and long-term effects of the crisis on their fleets and employees, Delta says more than 17,000 workers have decided to leave the company, with "thousands more" taking voluntary unpaid leave packages into the fall, minimising the need for layoffs. The carrier has not yet said publicly how many jobs it plans to cut in order to right-size for the months and years to come.
Delta's competitor United said last week that it had sent warning notices to 36,000 employees – about 45% of total staff – saying that their jobs may be in danger when the federally funded payroll protection plan runs out on 1 October. United, too, is offering generous leave and departure packages, in order to mitigate number of employees it will need to actively lay off.
Both airlines have said they expect the industry to shrink by about a third, and for it to take up to three years to return to 2019 levels.
Delta's woes were compounded in the quarter by two of its Latin American partners' entry into bankruptcy proceedings. Chile's LATAM and Mexico's Aeromexico are both seeking protection from creditors as they restructure finances following the sharp decline in revenue perpetrated by the global health crisis. The airlines are integral to Delta's plan to become a major player in the region.
Last year, Delta paid $1.9 billion for a 20% stake in LATAM, directly challenging traditional leader American for a bigger share of that market.
Latin American governments have been slow to assist their aviation industries and have not offered blanket financial aid packages like their North American and European counterparts, leaving the region's industry as well as millions of jobs in tourism and travel in limbo.
Bastian also says Delta was working with Airbus to delay deliveries, but the parties have not yet reached a final deal. According to Cirium fleets data, Delta has orders for 235 aircraft from the Toulouse-based airframer, spanning the entire Airbus family, from A220s to long-range widebody A350-900s.
"Clearly we are in a situation where we don't need aircraft and we are doing our best to manage through the next 18 to 24 months to minimise deliveries," Bastian says.