Delta Air Lines will hike the health insurance premiums of employees who are not vaccinated against Covid-19 starting 1 November.
In a memo to employees, the Atlanta-based carrier's chief executive Ed Bastian says on 25 August that the airline will not require employees to be vaccinated against Covid-19, but new rules will apply to those who decline.
"Beginning Nov. 1, unvaccinated employees enrolled in Delta's account-based healthcare plan will be subject to a $200 monthly surcharge," Bastian writes. "The average hospital stay for Covid-19 has cost Delta $50,000 per person. This surcharge will be necessary to address the financial risk the decision to not vaccinate is creating for our company."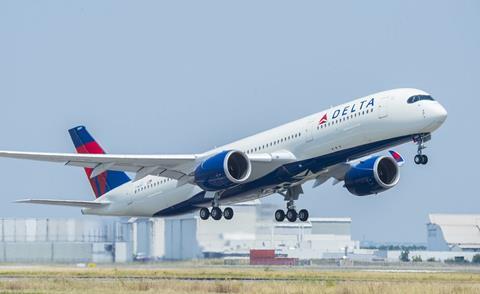 In addition, unvaccinated employees will be required to wear face coverings in all indoor Delta settings as of immediately, and will be tested weekly from 12 September.
Bastian adds that in the weeks since the more-virulent "Delta" variant has spread in the USA, "all Delta employees who have been hospitalised with Covid were not fully vaccinated".
About 75% of the company's staff are vaccinated, and the airline administered 150,000 doses of the vaccine to employees, family members and friends at clinics across the USA in past weeks, Bastian adds.
But, he adds, the only way out of the pandemic is if more people get the jabs.
"The Covid-19 pandemic is a global health crisis, and one of the most dangerous challenges our world has faced in this lifetime," Bastian writes. "Over the past few weeks, the fight has changed with the rise of the [Delta] variant – a very aggressive form of the virus."
Delta's approach differs from peer United Airlines, which is requiring vaccinations for its workers, with no alternatives other than individual case-by-case exemptions. Most United employees who are not fully vaccinated by the end of September will lose their jobs.
Frontier Airlines and Hawaiian Airlines have also announced vaccination requirements for employees, but those unwilling will be subject to a regular testing regimen.
In Canada, the federal government has said all airline crews and passengers must be vaccinated by the end of October. Regional carrier Porter Airlines is the first Canadian airline to mandated the vaccine or a negative test for all employees, beginning in September.
This week, the US Food and Drug Administration granted full approval to the Biontech/Pfizer coronavirus vaccine, with the Moderna and Johnson & Johnson vaccines expected to follow shortly. Previously, all three had been administered under an emergency use authorisation.
With full approvals, more companies are expected to require their employees be vaccinated.
As of 24 August, just over 202 million people in the USA, or 60.9% of the US population, have had at least one vaccine dose, with more than 171 million, or 51.6%, fully vaccinated.