Cathay Pacific does not "foresee significant signs of recovery" in the near term, as Hong Kong and Mainland China tighten travel restrictions amid a record surge in Omicron infections.
The carrier, which posted an operating loss of HK$1.4 billion ($179 million) in 2021, continues to see weak travel demand in what it called a "challenging" operating environment.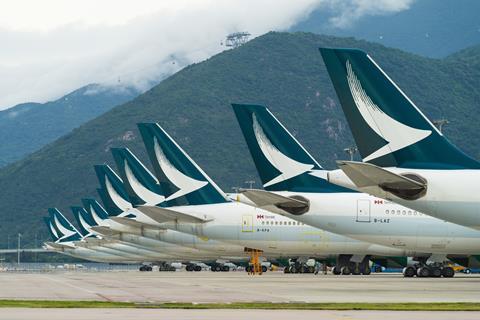 Travel demand from its Mainland China routes have also dwindled, as Beijing imposed stricter capacity restrictions as part of pandemic management measures, adds the Oneworld carrier.
In traffic results for February, Cathay carried just over 31,000 passengers. While that was nearly 48% more than February 2021, and a slight uptick against January's 24,700 passengers, it still maked a 99% decline on the pre-pandemic numbers of February 2019.
Cargo, which helped narrow the airline's losses in 2021, also saw a decline in traffic, as operations were affected by stricter quarantine measures.
In February, the airline carried over 65,000t of freight, a 21% decline year on year, and half the amount in 2019.
Cathay Pacific chief commercial and customer officer Ronald Lam says: "Tightened requirements for cross-border trucking between the Chinese Mainland and Hong Kong, as well as the surge in Covid-19 cases in Hong Kong, reduced demand from our home market. Furthermore, the anticipated market recovery from Asia to long-haul destinations was slower than expected post-Chinese New Year."
Lam adds that the outlook remains bleak, particularly on the passenger travel side: "Looking ahead in March…we originally expected that the majority of passenger traffic would continue to come from our Chinese Mainland routes. However, stricter capacity restrictions have since been put in place by the Chinese Mainland authorities as part of their pandemic control measures.
"These, together with the current restrictions in Hong Kong, mean that we do not foresee significant signs of recovery in passenger travel demand in March," he adds.
Cathay swung back to a cash-burn position as restrictions crippled its operations. The airline disclosed a monthly cash burn of between HK$1 and 1.5 billion since February, compared to a cash-positive position in the second half of 2021.