EasyJet expects to operate only around 10% of its capacity during the first quarter of the calendar year as travel restrictions tighten, but believes it can quickly capitalise on opportunities at key airports where rivals have retrenched.
In a trading update today, the UK low-cost carrier says it carried almost 2.9 million passengers across the last three months of 2020 – the first quarter of its financial year. That was achieved on operating 18% of the previous year's capacity at a load factor of 65.7%.
Group revenues for its first quarter fell 88% to £165 million ($226 million).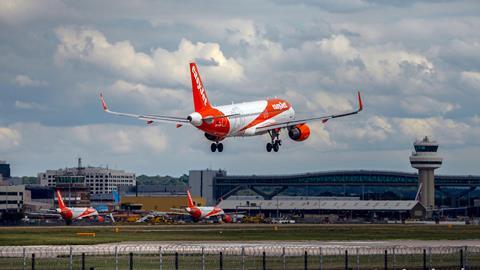 EasyJet chief executive Johan Lundgren says: "Our performance in the period was in line with management expectations, despite more stringent restrictions coming into place."
While travel restrictions have increased in the UK during January, prompting the carrier's low capacity through until the end of March, it see strong pent-up demand when the vaccine and the lifting of restrictions allow travel to resume. EasyJet highlights research showing around two-thirds of consumers still planning to travel on holiday this year.
"We retain the flexibility to rapidly ramp up to capture that demand," the airline says, noting it is "uniquely placed" to take advantage of the material reduction in competitor capacity at its key bases – especially given the network overlap that existed prior to the crisis.
"We continue to invest in the right opportunities," it says, citing opportunities at Paris, Milan, Geneva and London Gatwick. At the latter airport, its largest base, it has secured further slots in a trade with restructuring Norwegian and will base four more aircraft there. "We are growing at Gatwick and will have a record 71 aircraft based there this summer," it says.
The carrier also plans to open seasonal bases in Malaga and Faro this summer, adding to the Palma seasonal based it has operated since 2016. This, it says, will enable it to build scale in key leisure markets while managing seasonality.
Lundgren says: "We have taken the right actions to emerge leaner with a reduced cost base, and the retrenchment of legacy carriers at key airports will provide additional opportunities for EasyJet."