EasyJet is to begin consultations on proposals to cut staff levels by up to 30% as it expects to reduce its fleet by 51 through a mix of deferrals and returning leased aircraft by the end of 2021.
In a trading update released today the UK budget carrier says it expects its fleet to be at the bottom end of its range at around 302 aircraft by the end of 2021. This is 51 less aircraft than its pre-crisis projections for its anticipated fleet size at year-end 2021. EasyJet's fleet stood at 337 when it released its half-year results in mid-April.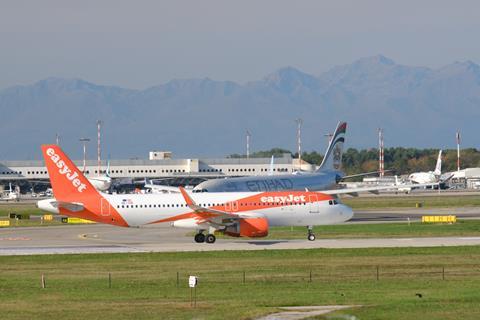 "This fleet number will include c.3-4% of un-crewed standby aircraft during peak. The reduction in fleet size will be achieved through the measures previously announced, including the deferral of new aircraft deliveries and the re-delivery of leased aircraft," the airline says.
EasyJet in April already announced it had agreed a deal with Airbus to push back an order for 24 aircraft due for delivery in 2020-2022.
"We remain focused on doing what is right for the company and its long-term health and success, following the swift action we have taken over the last three months to meet the challenges of the virus. Although we will restart flying on 15 June, we expect demand to build slowly, only returning to 2019 levels in about three years' time," says EasyJet chief executive Johan Lundgren.
"Against this backdrop, we are planning to reduce the size of our fleet and to optimise the network and our bases. As a result, we anticipate reducing staff numbers by up to 30% across the business and we will continue to remove cost and non-critical expenditure at every level. We will be launching an employee consultation over the coming days."
EasyJet's 2019 annual report shows its employs over 15,000 staff.
EasyJet also says it continues "to engage with an active lessor market" over potential sale- and lease-back deals for aircraft in its fleet. It expects proceeds from this in the range of £500-£650 million ($614-$798 million).
The carrier has already secured £400 million in loans and £600 million through the UK's Covid Corporate Facility, as well as fully drawing down on a $500 million revolving credit facility.
"Upon closure of all these funding initiatives, we expect to have generated total additional liquidity of c.£2 billion, with our cash burn during grounding being broadly in line with our estimates published in April," the airline says.
EasyJet, which grounded its fleet at the end of March, plans to resume flights from 15 June on a small number of routes, predominantly UK and French domestic routes.
"Further routes will be announced as customer demand increases and government restrictions across Europe are relaxed. So far, the booking trends on the resumed flights have been encouraging, and the demand indications for summer 2020 are improving, albeit from a low base," the airline says.
It says bookings for winter are "well ahead" of the equivalent point last year, but that includes customers who have rebooked coronavirus-disrupted flights for later dates.
The airline says it expects to fly around 30% of its planned capacity in the three months ending 30 September 2020.
"At this stage, given the level of continued uncertainty, it is not possible to provide financial guidance for the remainder of the FY20 financial year. However…we continue to take every step necessary to reduce cost, conserve cash burn, enhance liquidity, protect the business and ensure it is best positioned on our return to flying," it says.