Chinese conglomerate HNA Group has revealed plans to inject fresh capital in its airline units — including flagship carrier Hainan Airlines — marking a significant step in the debt-laden group's long-drawn business restructuring process.
In a stock exchange filing on 27 September, Hainan Airlines Holdings says investors have agreed to a plan to double its capital base, by offering more than 16 billion new shares worth around CNY37 billion ($5.7 billion).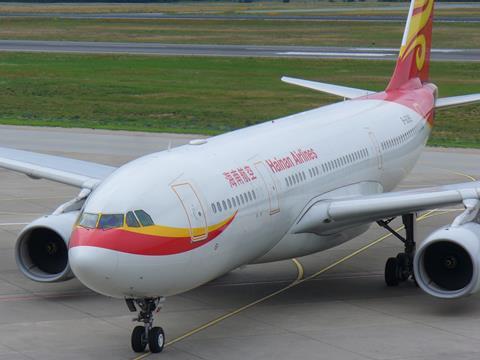 The bulk of the shares will be issued to Hainan Airlines' creditors, to "pay off corresponding debts", it adds. The remaining shares will be allocated to the group's strategic investor, industrial conglomerate Liaoning Fangda Group.
Liaoning Fangda, which has interests in carbon, steel and pharmaceutical industries, was in early September selected as the strategic investor for HNA Group's aviation assets.
With the fresh capital injection, Hainan Airlines Holdings expects that its asset-liability structure — as well as its profitability — will be "significantly improved".
Separately, a draft restructuring plan disclosed by HNA Group indicates plans to merge 11 airline units into one entity. The airlines will comprise flagship Hainan Airlines, as well as smaller units such as Fuzhou Airlines, Lucky Air, Air Changan, as well as Guangxi Beibu Gulf Airlines.
The move follows "comprehensive investigations" by HNA restructuring managers into the conglomerate's wide-ranging and murky corporate structure.
It notes that the "connected transactions of the 11 companies are complex" and that the "scale of claims and debts is large". The 11 companies owe close to CNY400 billion to more than 4,900 creditors, according to the filing.
An investor vote on this aspect of the plan —originally scheduled for the 27 September meeting — has been postponed to late-October, to allow a number of creditors to make a final decision.
HNA Group received formal notice in late-January that creditors had filed for its bankruptcy, on grounds that it was unable to pay off its debts.
The group was already struggling as early as 2018, when it was reported that it was facing a liquidity crunch and mired in debt. The coronavirus outbreak dealt the HNA Group a further blow and by February 2020 it threw in the towel, seeking help from the Hainan provincial government.
The latest development comes amid reports that HNA chairman Chen Feng and group chief Adam Tan were detained by Chinese police over "suspected crimes". HNA says the criminal probe is not likely to impact restructuring, which it says is proceeding "smoothly".