Long-serving Emirates airline president Tim Clark is to retire at the end of June 2020.
News that Clark is to step down from the role next summer first emerged following reports of an internal announcement, which added Clark will remain as an advisor to the airline.
An Emirates spokesperson has subsequently confirmed that Clark is stepping down.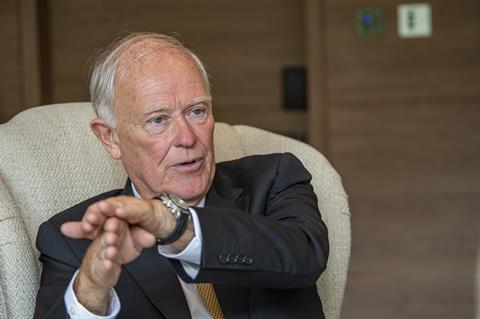 A founder member of the Emirates management team in 1985 and appointed president in 2003, Clark has steered the Dubai carrier to become one of the largest global operators.
The latest Airline Business World Airline Rankings show Emirates was the seventh largest airline group the 2018/19 financial year with revenues of $29.7 billion, and fourth biggest group in the world in terms of traffic.
How to fill the shoes of such a central chief executve has been a long-standing question for Emirates. The arrival of experienced airline executives like Thierry Antinori and Christoph Mueller in senior roles at the Gulf airline had led to speculation that they were being lined up to take over in the future. But both have now left and several Emiratis have recently been appointed into senior executive positions, including Adel Al Redha as chief operating officer and Adnan Kazim as chief commercial officer.
Speaking during a recent wide-ranging interview with FlightGlobal, Clark was asked about the possibilty of an Emirati taking the helm. "Personally, if you can get a Dubai national to sit in my job that would be a good thing, because they will have earned it," Clark said. "And it sends a clear message because the government wants to accelerate the 'Emirates-isation' of the workforce."
Read the full interview with Tim Clark from earlier this year