Etihad Airways narrowed its loss in 2019, to $870 million from $1.28 billion the year before, as the Abu Dhabi carrier cut capacity 6% as part of its transformation programme.
Passenger numbers declined 1.7% to 17.5 million. "Passenger routes were rationalised at the end of 2018 to optimise the network and improve revenue quality," notes Etihad. "Total operating costs were significantly reduced, driven by a continuous focus on cost control and favourable fuel-price trend. Financing costs remained flat despite the delivery of new aircraft to the fleet."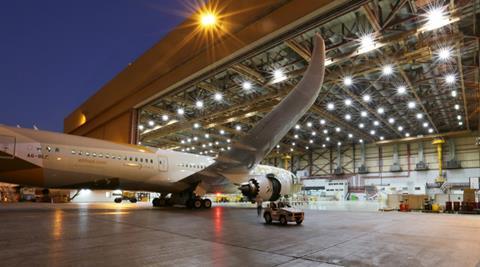 Yields rose 1%, helped by fleet optimisation and a growing market share in premium and point-to-point markets. Load factor also ticked higher to 78.7%, from 76.4% previously.
Group chief executive Tony Douglas states: "Operating costs were reduced significantly last year and both yields and load factors were increased despite passenger revenues being down due to network optimisation.
"An improvement to the cost base significantly offset the cost pressures faced by the business, giving us headroom to invest in the guest experience, technology and innovation, and our major sustainability initiatives."
Etihad Cargo remains "committed to its transformation strategy, despite challenging headwinds", says the Middle Eastern operator. Cargo volumes reduced to 635,000t, a 7.4% drop on 2018. "This decline is mostly attributable to the full-year effect of belly-hold and freighter capacity rationalisation undertaken in the fourth quarter of 2018, combined with adverse market conditions that resulted in yields dropping by 7.8%," Etihad says.