ExpressJet Airlines, which ceased operations last year, will resume flying in October, operating leisure-focused routes in the western USA under the brand Aha.
Based in Reno, Nevada, Aha will initially serve eight cities using regional jets. It intends to expand to 20 destinations in the coming months, ExpressJet says on 29 September.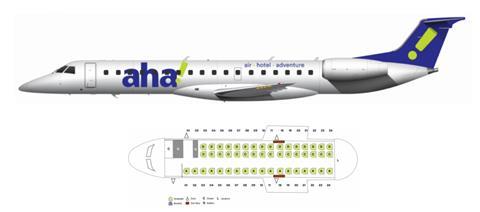 ExpressJet formed the subsidiary after "developing post-Covid flying opportunities that fit our history of serving smaller communities with regional aircraft, says ExpressJet chief executive Subodh Karnik. "With so many under-served communities and the allure of Reno-Tahoe, the Aha… model practically leapt at us."
Atlanta-based ExpressJet, a regional carrier which ceased operations in September 2020 amid the pandemic, applied to the US Department of Transportation for a recertification on 15 April and announced a relaunch on 30 July. It currently has a single 50-seat Embraer ERJ145 regional jet on its certificate.
Prior to the global health crisis, ExpressJet flew exclusively on behalf of United Airlines as United Express, and shuttered after United decided to consolidate ERJ-145 flying with Cleveland, Ohio-based CommutAir. ExpressJet had no other airline customers.
The company says Aha stands for "air-hotel-adventure". According to its website, its jets will be decked out in a lime-green and blue livery.
Initial destinations include Pasco/Tri-Cities (Washington), Bakersfield, Eureka, Fresno and Ontario (California), and Medford, Redmond and Eugene (Oregon). Flights will start on 24 October, says Aha. It describes Reno as well-placed near Lake Tahoe, which draws vacationers year round.
A test booking on the airline's website for flights during the last week of October returns fares of $49 one way. Three ticket categories – increasing in price – are offered: Budget, Standard and Flex. The airline charges $30 for a carry-on or first checked bag. The second checked bag costs $50.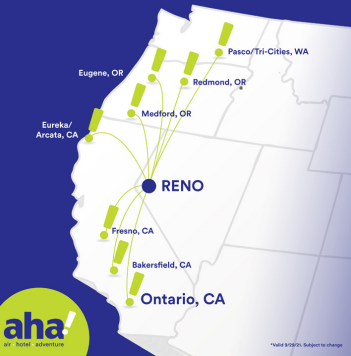 Despite the company's optimistic plans, few US regional carriers have had long-term success as standalone businesses, though several have tried. Those include now-defunct Atlantic Coast Airlines, which operated flights for Delta Air Lines and United before breaking those ties and launching its own operation – Independence Air – in 2004.
Independence Air operated relatively high-seat-cost Bombardier CRJ200s, offered rock-bottom fares and faced intense competition at Washington's Dulles International airport from United. Independence went out of business in early 2006. Another, Mesa Airlines, operated a subsidiary in Hawaii called Go until 2014.
Aha is the second carrier to launch flights to secondary cities in the western USA this year. In April, Avelo Airlines, a low-cost carrier based out of Los-Angeles-area Hollywood Burbank airport, began flying to some of the same destinations with a fleet of Boeing 737-800 aircraft.
The new airline says it will offer "value-priced, nonstop flights", and it plans to partner with resorts, casinos and other attractions to create vacation packages for cost-conscious travellers.
With additional reporting by Jon Hemmerdinger.