Finnair and Juneyao Air have signed a joint-venture agreement that deepens the carriers' commercial relationship on services between Finland and China.
The agreement covers the Helsinki-Shanghai route – on which both airlines operate – and network points beyond.
The two carriers signed a letter of intent to create the joint business in April last year, when Finnair said the tie-up would "enable significant further expansion of codesharing across the networks of both partners, particularly to key points [beyond] Shanghai Pudong and Helsinki".
Under the joint business, the two carriers say customers will benefit from "flexible routing options… and enhanced benefits for frequent flyer members".
Juneyao Air launched its Shanghai Pudong-Helsinki service in mid-2019, immediately codesharing with Finnair on the route. Both carriers connected the two airports on a daily basis until the Covid-19 pandemic hit and frequencies were reduced.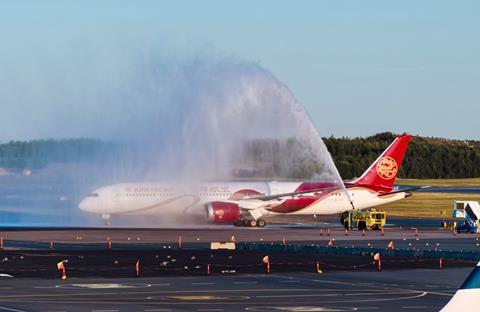 Speaking to FlightGlobal last year, Finnair chief executive Topi Manner said: "The philosophy behind the JV and that letter of intent that we announced in April is that even during times like this, when we need to play the short game to survive, we still need to keep focusing on the long-term goals as well.
"And one of our long-term goals is that we really want to improve our presence and foothold in Asian markets, and China definitely goes into that one."
Indeed, Finnair has stated several times during the Covid-19 crisis that it remains committed to its core strategy of connecting Europe with Asia, even though travel restrictions continue to make non-essential travel between the two regions all but impossible.
"We think that we have a sustainable competitive advantage in that short northern route, which is not only the shortest in terms of travel time, but also the most environmentally sound route," Manner said last year.
The Finnish carrier also has a codeshare relationship with China Southern Airlines.
Pre-crisis, European carriers often struggled to make Chinese services commercially viable, sometimes due to a lack of connecting partners.
From Juneyao Air's perspective, CAAC restrictions on the number of local carriers that can serve international routes mean the airline has often needed to look beyond the obvious European hubs.
"The joint business with Finnair will allow Juneyao Air to further strengthen its market in Europe, which is an important strategy in our global expansion," says Juneyao Air chief executive Zhao Hongliang.
Having firmly established itself in the Chinese domestic market, privately owned Juneyao Air began expanding its international network in 2018 with its first widebodies – brand-new Boeing 787-9s.
When the pandemic hit last year, the carrier was forced to postpone the launch of three new services from Shanghai Pudong to Dublin, Manchester and Reykjavik. These were to be operated as multi-leg, fifth-freedom routes, via Helsinki.
Juneyao Air then launched a weekly Zhengzhou-Helsinki service in October 2020, although Cirium schedules data suggests that has not operated for many months.
Finnair is a member of the Oneworld alliance, while Juneyao Air is a Star Alliance Connecting Partner – which is essentially a "light" version of alliance membership.