Kazakhstan's Air Astana posted its highest after-tax profit of $78.4 million in 2022 on record passenger and revenue figures.
Chief executive Peter Foster had last month told FlightGlobal that the group was set to post the strong results after what he termed a "spectacularly successful" 2022. Such an outcome seemed an unlikely when flights were hit in January 2022 by political unrest in Almaty and when air services in the region where further disrupted by Russia's invasion of Ukraine the following month.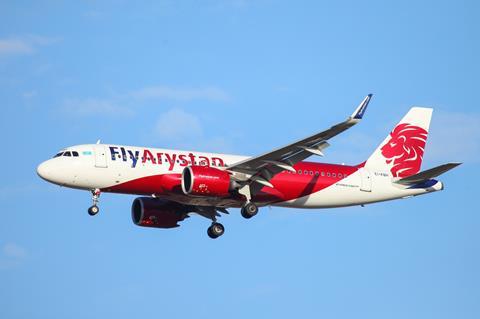 "Revenue loss caused by the closure of routes to, from and over Russia was more than compensated for by increased capacity deployment to Europe, Asia, India, and the Caucasus," says Foster.
Air Astana posted group revenues of just over $1 billion in 2022, a year in which passenger numbers jumped to 7.35 million. That surpassed the $900 million revenues the group generated in pre-pandemic 2019, while passenger levels outstripped the 6.6 million the Kazakh group flew in 2021.
Much of the traffic growth has been led by low-cost unit FlyArystan – which only launched four years ago. While the group has not provided a breakdown of passenger numbers between network carrier Air Astana and its budget unit, Foster previously indicated the latter was likely to carry more passengers in 2022.
"FlyArystan has grown by 366% since its inaugural year of 2019," says Foster today. "It has a great future, as this region probably has the fastest growing low-cost air travel market in the world today."