Flybe has dismissed suggestions by rivals Ryanair, EasyJet and IAG that the UK regional carrier is receiving unfair and illegal state subsidies, following the government's decision to provide a bailout package.
Exeter-based Flybe asserts that media reporting of its bailout has been inaccurate, and says the payment plan agreed with UK tax authorities covers a debt of less than £10 million ($13 million). "This agreement will only last a matter of months before all taxes and duties are paid in full," it adds.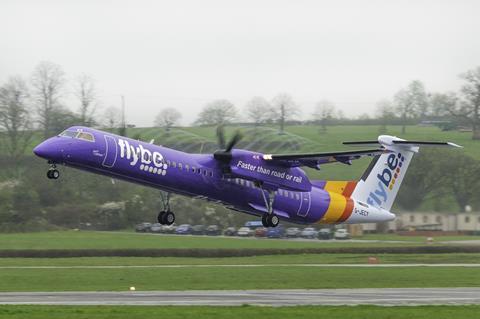 It stresses that this represents a standard "time to pay" agreement which any business in financial difficulties may use.
The government has not revealed the terms of the rescue deal that has been agreed. It has been reported that Flybe will be allowed to defer handing over more than £100 million of air passenger duty (APD) it owes, and that the government will launch a review of UK domestic APD.
Low-cost giant Ryanair argues that any financial assistance provided to Flybe would constitute unfair state aid, and is threatening to challenge the decision in the UK and European courts. Speaking to the BBC this morning, Ryanair chairman Michael O'Leary said he "doesn't believe" the government's insistence that it is not offering state aid to Flybe. "The reason we don't believe them is they won't publish the deal," he explained.
IAG has complained to the EU about the bailout, while EasyJet has said it is inappropriate for taxpayers' money to be used to bail out individual companies, especially give the well-capitalised position of Flybe's owners.