Charter jet operator FlyExclusive is the latest aviation company hoping to benefit from a merger with a special purpose acquisition company (SPAC).
The Kinston, North Carolina-based ad hoc and block charter operator is set to become a publicly traded company through a business combination agreement with EG Acquisition, it announced 17 October.
EG Acquisition is a "blank check company" sponsored by EnTrust Global and GMF Capital. The combined company is expected to trade on the New York Stock Exchange and adopt FlyExclusive as the corporate brand. Jim Segrave, founder and chief executive of FlyExclusive, will lead the company.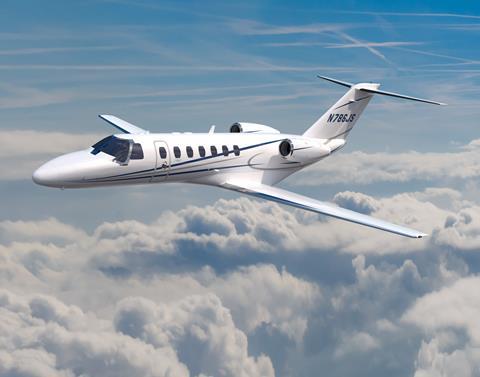 FlyExclusive entered the fractional market in April with the order of 30 new Cessna Citation CJ3+ aircraft, greatly expanding its 90-strong charter fleet of mostly Citation aircraft, including the CJ3 and Encore.
The company also announced 18 October it has entered a purchase agreement with Textron Aviation for up to 14 more Cessna Citation business jets. FlyExclusive is set to purchase eight XLS Gen2 aircraft and six Longitudes to be delivered in 2024 and 2025, respectively.
Despite not expecting delivery of the first of the new Citations until the second quarter of 2023, the company recently reported being close to selling out of its fractional shares of the incoming aircraft. Early shared-ownership customers gain access to FlyExclusive's charter fleet.
Segrave has been "stunned" by the sales of fractional shares, he told FlightGlobal in September. "It's remarkable, given that most of the planes are still nearly a year away," he says.
The company is following fellow fractional share ownership operator, Cleveland-based Flexjet, which on 11 October announced plans to sell public shares through a merger with Horizon Acquisition. It anticipates emerging in the second quarter of 2023 as a public company valued at $2.6 billion.
Competitor Wheels Up also became public by merging with an SPAC in 2021, while air taxi developers Archer Aviation, Eve Mobility, Joby Aviation and Vertical Aerospace have all struck similar deals.
FlyExclusive has a pre-transaction value of $600 million. The deal is expected to provide up to $310 million in proceeds – an immediate $85 million through committed convertible notes and up to $225 million of SPAC cash held in trust.
The company expects to use the $85 million from notes primarily to acquire additional aircraft, it says: "The transaction, once completed, will provide FlyExclusive with significant additional capital to continue its growth, better serve customers and execute its strategic plan."