Frontier Airlines is "disappointed" after ultra-low-cost peer Spirit Airlines terminated a planned tie-up earlier in the day.
"Obviously, we're disappointed that the Spirit shareholders will miss an opportunity to meaningfully participate in the rebound leisure travel of which we're in the early stages," Frontier chief executive Barry Biffle said during the company's second-quarter earnings call on 27 July.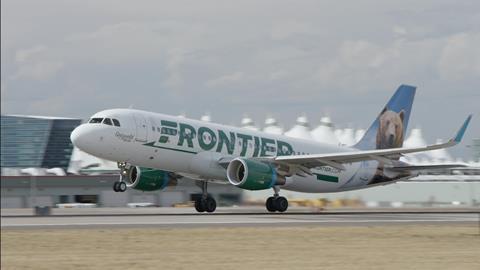 "Our board took a disciplined approach throughout the course of our negotiations. Rather than overpay for Spirit, the board prioritised the interests of Frontier, our employees and our shareholders," he adds.
Earlier on 27 July, Spirit said it terminated discussions about an acquisition proposal from Frontier. However, Spirit said it will continue discussions with JetBlue Airways about that carrier's competing acquisition offer.
Biffle insists Frontier will succeed "as a stand-alone entity," saying the airline has "a fantastic platform for profitable growth… with plenty of room to run".
"I couldn't not be more confident in our future, especially given the growing demand for affordable air travel," Biffle continues. "Our proven and resilient ultra-low-cost model continues to provide the foundation for our strategy and long-term value creation. Even with rising fuel prices, we continue to keep costs and fares low while generating record revenues and providing reliable service."
Frontier and Spirit on 7 February announced plans to combine, creating the fifth-largest US carrier – one with enough heft to better compete against mega US carriers United Airlines, American Airlines, Southwest Airlines and Delta Air Lines. The plan called for Frontier to acquire Spirit through a cash-and-stock deal.
But in April, JetBlue disrupted those plans with a competing, higher-priced unsolicited takeover offer. Spirit's board had repeatedly opposed JetBlue's deal, saying JetBlue would face significant pushback from regulators on antitrust grounds, and that such a deal could never be consummated.
In the ensuing months, Frontier and JetBlue have been competing for Spirit shareholders' attention, upping their offers several times, including adding reverse-termination fees, payable should the deals fell through.
JetBlue appealed directly to Spirit's shareholders, urging them to vote against a Frontier-Spirit combination – a move known as a hostile takeover. But throughout the process, Spirit's leaders had continued to favour Frontier's offer.
A shareholder meeting on 27 July ended before the results of the vote were made public, with an announcement that Spirit terminated plan to sell itself to Frontier.
JetBlue has yet to comment.