Frontier Airlines plans to open a new crew base at Dallas-Fort Worth International airport (DFW) in mid-2023 that would employ up to 120 pilots and 220 flight attendants in its first year.
The Denver-based discount carrier said on 3 November that the crew base is expected to generate $78 million in local wages, with potential for growth.
"We are thrilled to partner with the outstanding leadership at DFW to bring new jobs and meaningful economic impact to the Dallas-Forth Worth community," says Barry Biffle, Frontier's chief executive. "Opening a crew base here demonstrates our strong commitment to continued growth and expanded service."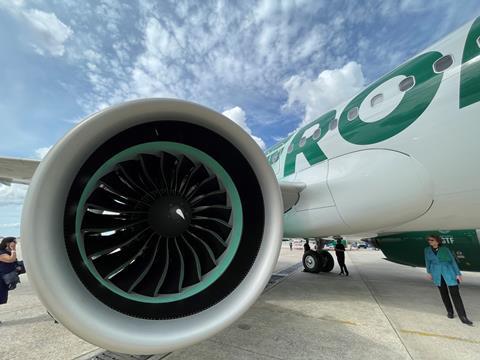 The base is part of an expansion plan that would see Frontier flying 19 nonstop routes from DFW – potentially making it the third-largest carrier at the airport by number of destinations, the company says.
The airline plans to roll out five new routes in spring 2023, beginning on 18 April with daily service to New York City's La Guardia airport.
Then, in late May, the ultra-low cost carrier (ULCC) will launch three flights a week from Dallas-Forth Worth to Montego Bay, Jamaica; four flights a week to Baltimore and Raleigh-Durham; and daily flights to Orange County, California.
The ULCC says it's been profiting from strong demand for leisure travel. On 26 October, the airline's parent company, Frontier Group Holdings, reported a profit of $33 million in the third quarter of 2022 and operating revenue of $906 million, up 44% from $630 million during the same three months in 2021.
Frontier operates 110 Airbus A320s and plans to triple its fleet size by the end of the decade, with 158 A321neos scheduled to be delivered through 2029. It took delivery of the first A321neo on 11 October.
The company also holds orders for 51 A320neos and 18 of Airbus's in-development A321XLR.