Frontier Airlines says it is in a "strong financial position" to get to pre-coronavirus levels by early 2022 despite the coronavirus' Delta variant that ate into the carrier's revenues in the third quarter of 2021.
The Denver-based ultra-low-cost carrier reported a $23 million profit for the quarter that ended on 30 September. Adjusted to take away financial aid the airline received from the government and other items, the carrier posted a $24 million loss for the quarter.
Revenue for the third three months of this year came in at $630 million, up from $245 million in 2020, but still lower than the $669 the carrier earned in the three months that ended on 30 September two years ago.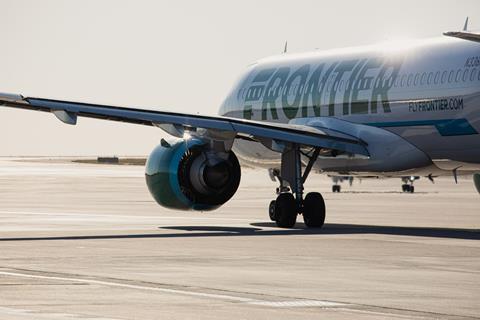 "This quarter reflected another step in our path to recovery, with the business remaining resilient in managing the dynamic nature of the pandemic," says Frontier's chief executive Barry Biffle. "Despite the impact of the Delta variant on bookings during the quarter, we increased our capacity, departures and level of ancillary revenue per passenger as compared to the comparable pre-Covid quarter."
But the airline's executives expect the coronavirus' more-transmissible Delta variant to be "transient". The airline is seeing strong bookings for the busy end-of-year holiday travel season, which begins later this month with the Thanksgiving long weekend - often the busiest travel weekend of the year.
The company's capacity guidance for the fourth quarter of the year is 2-4% above that of the same quarter in 2019, with a net income of 10-20% lower than in the pre-pandemic fourth quarter of 2019.
"We believe that from a demand and revenue environment, we should be back to 2019 levels by the time we get back to spring," Biffle adds.
Executives also say the ultra-low-cost carrier plans to cease operations to and from Newark's Liberty International airport and Washington DC's Dulles International airport due to the high costs in those markets.
"We have many other growth opportunities, and we have lots of places to put our aircraft," says Daniel Schurz, Frontier's senior vice-president of commercial.
"If costs come down, we will be back. If costs don't come down we will stick with lower-cost airports," he adds.
Earlier this year, the carrier left Los Angeles International airport in favour of serving the Los Angeles metropolitan area from less-expensive secondary fields like those in Ontario and Hollywood-Burbank. It also left San Jose International airport.
At the end of September, Frontier operated a fleet of 112 Airbus A320 family aircraft, which is 10% higher than a year earlier, and 20% higher than at the end of the third quarter of 2019, the carrier says. It operated "over 435" flights every day, 8% higher than during the comparable pre-coronavirus quarter in 2019.
The airline took delivery of five Airbus A320neo aircraft during the quarter, and expects no further deliveries this year.