Frontier Airlines is planning a seasonal expansion of its Atlanta operations, which will become the ultra-low-cost carrier's third largest operation by this summer.
"Atlanta is one of Frontier's fastest growing markets," Daniel Shurz, the airline's senior vice-president of commercial, said on 21 March. "We are proud to connect Atlanta to 10 international destinations and 28 US destinations. We are working hard to make our already robust network at Atlanta even bigger."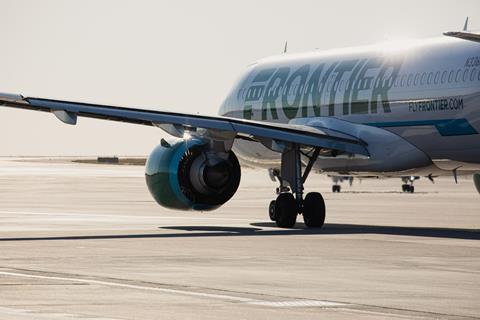 In May, the Denver-based discounter will launch three new seasonal routes between Atlanta and Guatemala City, Santo Domingo and San Diego.
The planned expansion will increase Frontier's weekly international departures from Atlanta from 21 to 39 flights, Frontier says. It will also restart seasonal nonstop flights between Atlanta and Ontario (California) and Salt Lake City on 11 May and 12 May, respectively.
Frontier currently operates eight international routes between Atlanta and cities in Mexico, Central America and the Caribbean – flying most frequently to San Juan and Cancun, according to Cirium.
Also in May, Frontier plans to add several new routes between cities in the USA and Puerto Rico, including its first flights to Ponce with thrice-weekly operations from Orlando.
The carrier's seasonal expansion comes as Frontier is offering a flat rate for unlimited flights between its US and international destinations with its GoWild! All-You-Can-Fly Summer Pass, which applies to travel 2 May through 30 September 2023.