Grupo Aeromexico, the parent company of Mexico's legacy carrier Aeromexico says a total domestic recovery – coupled with a significant jump in international markets – has helped it almost double revenue during the first quarter.
The Mexico City-based carrier's revenue rose to Ps.12.9 billion ($630 million) from Ps.6.6 billion during the same three months in 2021, the company says in its earnings report for the first three months of 2022 on 27 April.
"During the quarter Aeromexico's capacity as measured in available seat kilometres (ASKs) represented about 80% of the same period of pre-pandemic 2019, mainly driven by the full recovery of the domestic market, and the sequential recovery in international markets," the company says.
Domestic capacity rose to 99% of 2019 levels, with revenue up 71.5%. International capacity was at 72% of 2019 levels, and revenue for that segment rose almost 160%.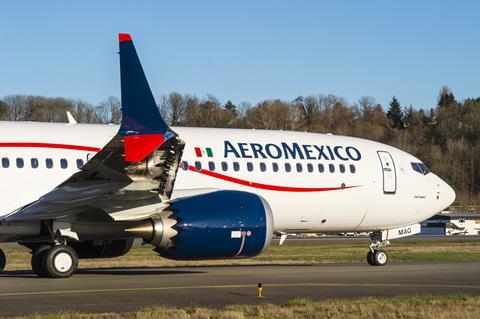 Aeromexico's net loss for the period shrunk to Ps.3.1 billion from Ps.4.2 billion in the first quarter of 2021.
As at other airlines, the first three months of the year were marked by the Omicron wave of Covid-19, which resulted in cancellations and delays in January and February, before bouncing back in March.
"March showed strong signs of recovery, [with the airline] transporting 92% of 2019 passengers during the month, with our domestic market exceeding 2019 levels," Aeromexico says.
"The company remains committed to safely expand flight service in the coming months, in line with local regulations and customer demand, in full compliance with the highest health standards and protocols," the airline adds.
The carrier added 10 Boeing 737 Max during the first three months of the year, bringing the number of aircraft in its fleet to 134.
The carrier emerged from an almost two-year bankruptcy protection process in March, after shareholders, creditors and a US court approved its reorganisation plan.
Aeromexico says that it recognised net restructuring benefits of Ps.1.6 billion related to its Chapter 11 exit process as well as non-recurring items during the quarter. "The restructuring benefits mainly included the valuation of general unsecured claims liability at its fair value, previously recognised at its amortized cost, for balances incurred before the Chapter 11 restructuring process," the company adds.
Aeromexico and Latin American peers Avianca and LATAM Airlines Group all sought bankruptcy protection in 2020 in the wake of the precipitous drop in demand as the coronavirus tore around the world. Chile's LATAM remains the only airline of the three which has not yet completed the process.