Garuda Indonesia has signed a deal with Indonesia's national asset management that will see the carrier receive funds to restore aircraft to service, which will be repaid through a profit sharing scheme on select routes.
Under an agreement signed recently with PT Perusahaan Pengelolaan (PPA), Garuda will receive a financing facility worth up to INR725 billion ($48.8 million), with the funds earmarked for returning stored aircraft to service.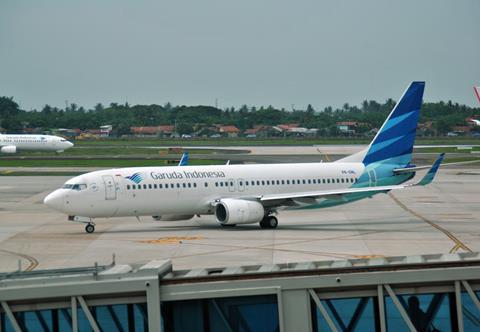 The profit sharing scheme will run for five years and include several routes, says Garuda. These include Jakarta-Surabaya, Jakarta-Makassar, and Jakarta-Jayapura.
"This cooperation reflects Garuda Indonesia's commitment to optimising a mission of transforming business performance with the aim of delivering a positive contribution for the community amid the national economic recovery program," says Garuda chief executive Irfan Setiaputra.
Garuda's contribution will be particularly important in the tourism sector, he adds.
In addition to returning stored aircraft to service, the funds will be used for the maintenance of equipment such as engines, auxiliary power units, and other aircraft components.
Having gone through a major restructuring exercise, Garuda is working to restore its fleet to service as Indonesia recovers from the coronavirus pandemic.
Earlier this month, Garuda told the Indonesia Stock Exchange that has just 30 "serviceable" aircraft, but that it aimed to get this number to 61 by year-end.
Garuda's statement about the PPA arrangement, however, indicates that it aims to have 60 aircraft by the end of the year.