Sundair has launched a restructuring process under a 'protective shield' procedure that enables the German leisure airline to continue operations.
It tells Cirium that the process, enshrined in German legislation, is not an insolvency procedure, but rather applies to companies that "recognise business problems at an early stage" and have "sufficient room to manoeuvre for implementing a solution".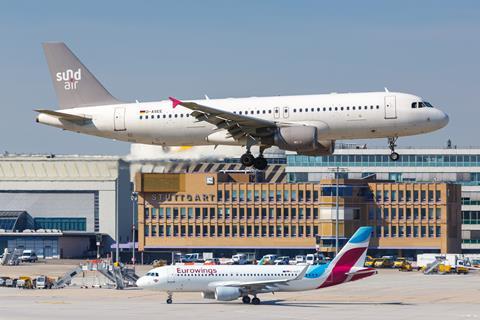 The airline, which operates from Berlin, Bremen, Dresden and Kassel, says it has been "seriously affected" by the coronavirus crisis and intends to complete its restructuring process by April 2021 and emerge with a "future-proof foundation" in place.
Managing director Marcos Rossello says discussions with "important creditors and partners" have yielded "very positive" responses. "All of them assured the company of their full support and announced that they would be continuing to work with Sundair," states Rossello.
The airline expects the restructuring plan to be finalised "in close collaboration with creditors… in upcoming months".
In October, Rossello became Sundair's single shareholder after tour operator Schauinsland-Reisen divested its stake. Schauinsland had taken a 50% shareholding when the Stralsund-headquartered airline was established in 2016.
Rossello says: "Positive developments before the pandemic show that Sundair has a viable business model." Since its operational launch in September 2017, the airline has "consistently grown", achieving profitability in 2019, it says.
Restructuring expert Thomas Mulansky, who has been engaged as an adviser, states that the restructuring effort is aimed at a "return to profitability in the long term".
Creditors are being represented by administrator Lucas Flother, who oversaw the insolvency of Air Berlin and protective-shield proceedings at Condor.
Sundair says operations will continue as usual, noting that "all planned flights are continuing in line with the applicable coronavirus conditions".
The carrier partially grounded its fleet following the Covid-19 outbreak, and resumed operations in July. "Passenger numbers have increased steadily since, but continue to remain below previous year's level," Sundair says.
Cirium fleets data shows that it has five Airbus A320s and two A319s. None of them are listed as being in storage. The two A319s are managed by BBAM. Two of the A320s are managed by LATAM Airlines Brazil and one by Aircastle; the remaining two are owned by Sundair.
The airline says wages and salaries for its approximately 240 staff – 160 pilots and flight attendants, plus 80 ground personnel – are protected for the duration of the protective-shield procedure by the German federal labour agency.
Sundair operates to Mediterranean destinations, Spain's Canary Islands and Red Sea holiday spots, in partnership with tour operators. Additionally, the airline conducts scheduled flights to Lebanon's capital Beirut and ad-hoc wet-lease and charter services.
The carrier filled capacity vacated by Germania, which ceased operations in early 2019.