Hawaiian Holdings, parent company of Hawaiian Airlines, says relaxed travel restrictions for inbound travellers from the US mainland have gone a long way to help the airline's bottom line during the second quarter of 2021.
The Honolulu-based carrier lost $6.2 million in the three-month period that ended on 30 June, compared to a $107 million loss in the same period of pandemic-plagued 2020, Hawaiian reports on 27 July. Without federal aid and other special items, the second-quarter 2021 loss would have been $73.8 million.
The airline's revenue during the second quarter was $411 million, down 42% from the second quarter of 2019 but almost five times the amount the airline achieved in same period of 2020.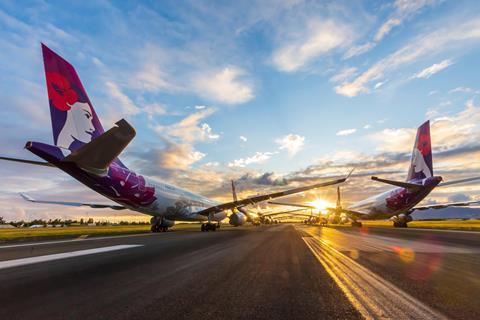 Capacity during the three-month period was 30% lower than in the second quarter of 2019.
"We made meaningful strides toward recovery during the second quarter, propelled by continued strong demand on our US mainland routes," chief executive Peter Ingram says. "It is encouraging to see how far we've come and I am optimistic about our continued recovery."
"In the second quarter of 2021, the company continued to rebuild and expand its network, primarily in North America," he adds. "Neighbour-island demand continues grind back…aided by the relaxation of restrictions."
Executives say the rapid spread of the so-called "Delta" variant of Covid-19 in past weeks has not made a "discernible" impact on passenger demand.
In June, the airline's North America traffic exceeded June 2019 levels, and the airline expects that trend to continue into the third quarter. During the second quarter of 2021, Hawaiian said it operated at an average of 70% of its 2019 second quarter system capacity.
In July, the state of Hawaii jettisoned its mandatory quarantine requirement for arriving travellers from the US mainland who are fully vaccinated. In addition, inter-island travel for inoculated passengers was simplified, as customers were freed from quarantine and testing requirements.
For the third quarter, the airline expects to continue to rebuild its network, "driven primarily by North America and neighbour-island flying". Capacity will come in around 20-23% lower than 2019 levels, says Ingram.
"The company expects improvement in total revenue, with continued strength in North America demand, and steady improvement in neighbor island routes," Hawaiian says.
LONG-HAUL
But international long-haul routes to Korea, Japan, Australia and New Zealand will continue to be a problem, likely for the rest of the year. There is no sign of travel restrictions easing in those countries, the airline's vice-president revenue management and network planning Brent Overbeek says.
Passenger volumes for those routes remain a fraction of 2019 figures, and travel restrictions have "stunted any meaningful prospects", Ingram says.
The airline expects its international flights to Japan and Korea will be first to recover, sometime in the final quarter of 2021, with Australia and New Zealand not likely to return until next year.
"We won't act on publishing schedules until we get closer to the realisation of the policy changes that are necessary before we can embark on a recovery," Ingram says.
Hawaii is a major holiday destination for Asian tourists, and Ingram says that demand will return once travel rules ease.
"What we have seen from North America is going to repeat itself when Hawaii is once again available to visitors from around the Pacific Rim," he says.