Air New Zealand is to cut capacity over the next six months, as the airline confronts its highest levels of crew sickness in more than a decade.
In a statement released 11 August, Air New Zealand says it will cut 1.5% from projected capacity for the period, meaning it would only be operating at around 90% pre-pandemic capacity.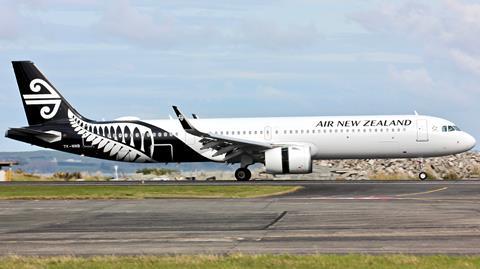 The capacity cuts are also expected to extend into the southern summer period, traditionally a peak travel period in Australia and New Zealand.
The Star Alliance carrier has been restoring capacity across its network in recent months, after border restrictions eased around the world, as well as in New Zealand.
However, the ramp-up is taking place "at a time when Covid and the flu continues to impact the aviation industry", says airline chief Greg Foran.
He adds: "While we did factor sickness into our ramp up plan, we've seen the highest rates of crew sickness in over a decade. We see these challenges continuing not just for crew, but for our whole operation, and so we're making proactive changes to address them."
"We're pulling out all the stops to minimise disruption and provide surety for our customers over the next six months. We have rehired or brought on more than 2,000 pilots, airport staff, cabin crew, contact centre and engineers, and we're going as fast as we can with recruitment and training," Foran says.
To help meet projected demand in the southern summer period, Air New Zealand says it is mulling leasing a crewed widebody aircraft for the year-end period.
Says Foran: "[At] the moment we're stretched to capacity and making sure our customers are able to travel is our top priority. The lease of an additional crewed aircraft may help us achieve that."
The capacity cuts come a day after Air New Zealand outlined plans to reactivate more stored Boeing 777-300ERs, including four examples stored at the Victorville storage facility in the Mojave Desert.
The first Victorville-stored aircraft, registered ZK-OKP, will leave the facility for Auckland in late-August, before joining the operating fleet in September.
It is unclear if the latest capacity cuts will impact the reactivation of the 777-300ERs.
Air New Zealand stored its 777-300ER fleet at the height of the coronavirus pandemic, where travel demand collapsed amid border restrictions. At the point, the airline stated it was unclear when the widebodies will return to its fleet, citing operational uncertainty.