IATA is warning that "tough times are ahead" after cargo tonne-kilometres declined 3.3% in January.
"January marked the 10th consecutive month of year-on-year declines in cargo volumes," the airline association notes. "The air cargo industry started the year on a weak footing."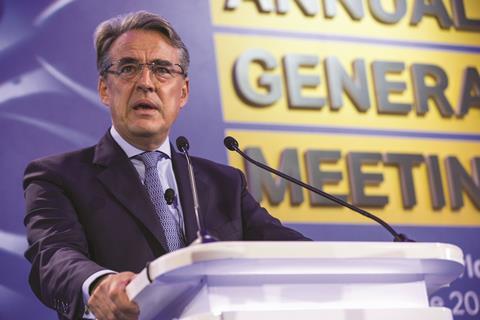 Initial optimism that easing US-China trade tensions could provide a boost to the sector has been dispelled by disruption to global supply chains from the coronavirus, notes IATA director general Alexandre de Juniac, though the outbreak did not have much of an impact on the January figures. However, he adds that while "the course of future events is unclear", the sector "has proven its resilience time and again".
Cargo capacity was raised 0.9% in January.
Among the regions, Asia-Pacific saw the greatest drop in demand, of 5.9%. "The impact from Covid-19 is expected to affect February's performance," says IATA. European demand fell by 3.7%; the Middle East and North America also showed declines, of 1.4% and 1.3% respectively.