Low-cost carrier IndiGo's parent Interglobe Aviatoin has outlined plans to raise up to Rs40 billion ($533 million) through a planned institutional placement.
In a stock market statement issued after a meeting today, Interglobe says its board has considered and approved a plan to raise funds not exceeding Rs40 billion through an issue of equity shares. The Indian carrier had on 5 August indicated its board would meet to today to discuss the raising of funds.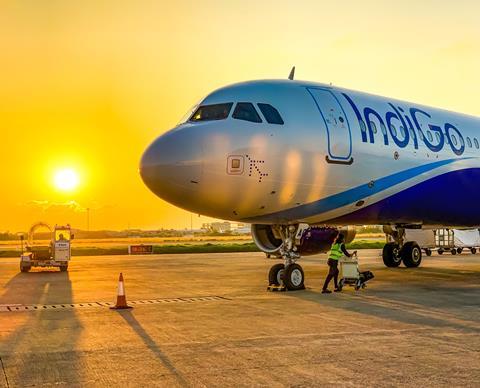 IndiGo has been India's fastest growing and most profitable carrier of recent years. But after a tougher 2018-19, the airline was dragged into a net loss for the year ending 30 March 2020 as tough conditions were compounded by the coronavirus crisis.
The airline had already indicated it was to cut 10% of staff because of the crisis and at the end of July announced a loss of Rs28 billion ($374 million) for the three months to 30 June 2020 compared with a Rs12 billion profit in the year-ago period. That was based on an 88% fall in revenues amid the coronavirus crisis.
In unveiling the results, IndiGo's chief financial officer Aditya Pande said it was working with its stakeholders to raise liquidity. That includes plans for the sale and leaseback of its unencumbered assets and talks with export credit agencies to obtain moratoriums towards principal repayment for aircraft on finance lease. These measures he said could help raise additional liquidity of approximately Rs20 billion.