Interim chief executive Siza Mzimela is leaving SA Express after 18 months in the top role at the challenged South African regional carrier.
SA Express, which was grounded in part because of the coronavirus crisis on 18 March, is an under a formal business restructuring process. The business practitioners running the airline have applied to have the airline liquidated.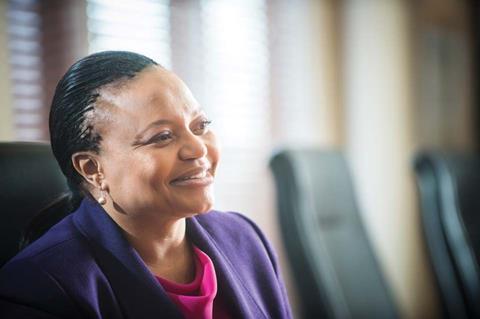 Mzimela had returned to SA Express, the airline she had led between 2003 and 2010, as part of a state intervention team initially tasked with helping the carrier through operational difficulties which resulted in its being grounded in May 2018. She became interim chief executive in August of that year.
"In just 18 months, and against incredible odds, the board and management, made huge strides to restore the airline," the airline says. "All malfeasance that led to the corrosion of governance structures was eradicated."
It adds: "Despite her stated intention of a limited tenure at the airline, her commitment and passion for SA Express has been resolute, opting to remain with the team through highly-challenging times."
The board says it recommended three names to the shareholder for the permanent role 12 months ago and awaits a response. In the meantime Thuli Mpshe has been appointed as acting chief executive.
While SA Express was able to return to flying after the grounding in May 2018, it has continued to struggle against its historic financial challenges.
South Africa's public enterprise minister said the carrier was not a going concern, in explaining the delays in its annual report submission last October. The airline was ultimately ordered to enter a formal business rescue in early February - a ruling initially contested by SA Express.
The airline suspended operations on 18 March in response to various pressures. While it cited the impact of the coronavirus outbreak, SA Express indicated this was only one consideration behind its decision, attributing the suspension to "adverse recent developments". Its future remains in the balance after the business rescue practitioners filed a court application for the liquidation of SA Express.
South African media, citing court papers, report that the practitioners have complained that South Africa's department of public enterprises has withheld required funding. But the ministry says: "The allegations that the government deliberately withheld financial support to the rescuers and that the department's approach to the process was unconstructive, are baseless."