Demand for international air travel retained growth momentum through to the end of 2021, IATA said on 25 January, albeit the December improvement was below recent trends as the Omicron variant of Covid-19 began to spread around the world.
The latest data from the airline industry association shows global international traffic measured in revenue passenger kilometres (RPKs) was 58.4% below 2019 levels in December, versus a pre-Omicron forecast of -56.5% – the latter being based on a continuation of the 4-percentage-point increases seen on average in each month since June 2021.
The December data still represents, however, a rise from the 60.5% deficit seen in November and reflects improved month-on-month demand in all regions except Africa, despite the imposition of fresh border restrictions in response to Omicron.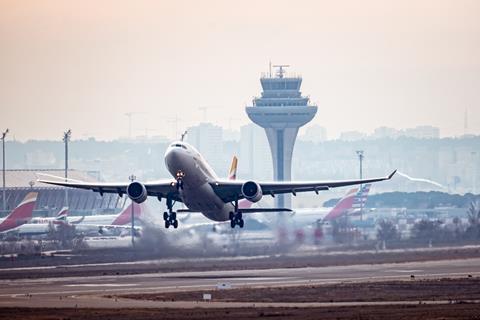 "That says a lot about the strength of passenger confidence and the desire to travel," says IATA director general Willie Walsh. "While international travel remains far from normal in many parts of the world, there is momentum in the right direction."
IATA data shows a continuing regional split in the fortunes of airlines when it comes to international travel – with Asia-Pacific very much the outlier, with "little improvement" seen since the peak of the Covid-19 crisis in April 2020.
International RPKs at Asia-Pacific airlines were down 87.5% versus pre-crisis levels in December, IATA says, amid the "risk-averse behaviour of regional governments towards border openings".
Latin American airlines recorded the best performance, with traffic down 40.4% against December 2019, followed by Europe at -41.5%, North America at -41.7%, the Middle East at -51.2% and Africa at -60.5%.
IATA notes that ticket sales indicate "the traditionally weak months of January and February" will also see demand down on levels forecast pre-Omicron.
"A New Year's resolution for governments should be to focus on building population immunity and stop placing travel barriers in the way of a return to normality," says Walsh.
When domestic markets are included in the IATA data – at -22.4% of 2019 traffic – overall global airline RPKs were down 45.1% on pre-crisis levels in December, from -47.0% in November.