Japan Airlines expects its net loss for the year to 31 March to be steeper than earlier forecast, as overall passenger travel demand remains in the doldrums.
The Oneworld carrier in a 15 April stock exchange filing says it expects to report a full-year net loss of Y177 billion ($1.4 billion), compared to earlier estimates of Y146 billion.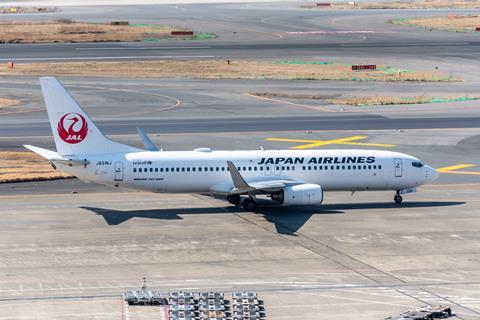 Pre-tax losses have also been revised upwards to Y239 billion, from Y198 billion disclosed in November 2021.
JAL also lowered revenue forecast by 11% to Y682 billion, as it blames the spread of the Omicron variant of the coronavirus for a shortfall in demand, particularly in its domestic network.
"[Due] to the spread of the Omicron variant, preventive measures were applied in many prefectures in Japan, which decreased domestic passenger demand significantly," the carrier says.
International travel demand "did not recover significantly", despite countries easing border restrictions, adds JAL.
While cargo revenue did pick up in the year, the carrier says it was sufficient to offset the drop in passenger earnings.
"In terms of operating costs, our cost-cutting efforts, especially for fixed costs, could not cover the reduction of the revenue. However, the surging fuel price in March due to geopolitical risks has been offset by hedging transactions so the impact of the fuel price hike on the full-year financial forecast is limited," adds JAL.
JAL posted an EBIT loss of Y31.5 billion for quarter to 31 December, marking a continued improvement on losses incurred in the first and second quarters.