Japan Airlines is extending its reach into Mongolia and Brunei through codesharing pacts with their respective flag carriers.
JAL says the codeshare with MIAT Mongolian Airlines would cover that carrier's flights from Ulaanbaatar to Tokyo Narita and Osaka Kansai, starting 31 March. Cirium schedules data show that MIAT flies five times a week to Tokyo, while its flights to Osaka will only begin in July, at twice-weekly frequency.
Subsequently, the partnership would expand to include JAL-operated flights within Japan, and on to Australia, Singapore, South Korea and Vietnam.
JAL's codeshare with Royal Brunei begins on 17 February, and will cover the Bandar Seri Begawan-based carrier's four-times-weekly flights to Tokyo Narita.
From the same date, Royal Brunei will codeshare on JAL-operated services from Narita to four Japanese cities.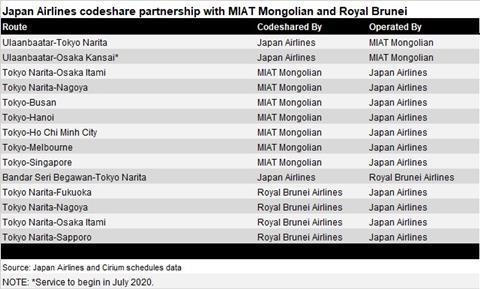 Cirium schedules data shows that no Japanese carrier operates to Brunei or Mongolia.
JAL has extensive codeshares with non-Oneworld carriers, including Aeromexico, Air France, Alaska Arlines, Bangkok Airways, China Eastern Airlines, Garuda Indonesia and JetBlue.