Japan Airlines narrowed its full-year operating losses amid an uptick in passenger travel revenue, and expects a swing to profitability in the new financial year.
For the 12 months to 31 March, the carrier posted an operating loss of Y235 billion ($1.8 billion), an improvement on the Y390 billion operating loss posted a year earlier.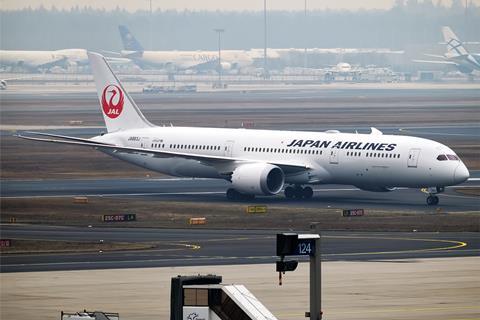 Against the previous year's low base, JAL saw revenue rise by about 41% to Y683 billion, led by a twofold jump in international passenger revenue. The Oneworld carrier notes that while border restrictions remained in Japan, transit demand rose sharply following the easing of curbs in key markets such as the USA and parts of Asia.
International traffic rose more than two-fold year on year, but was down 87% against pre-pandemic levels, while capacity was 91% higher year on year and down 58% from pre-pandemic 2019.
Domestic passenger revenue, meanwhile, rose about 35% year on year, as JAL says demand has fluctuated several times within the financial year, in tandem with the tightening and easing of pandemic measures in Japan.
Domestic traffic and capacity grew 30% and 26% respectively, but were down 56% and 32% when compared to pre-pandemic levels.
On cargo, JAL reports revenue growth of nearly 70% year on year, led by strong demand on its international cargo operations. The airline says demand has grown particularly in automobile and electric parts to North America.
International freight revenue more than tripled against pre-pandemic levels, with the cargo volumes more than 30% higher the 2019 financial year.
Meanwhile, full-year expenses grew 6% year on year to Y940 billion, as a result of a 50% rise in fuel-related costs.
As at 31 March, JAL had Y494 billion in cash and cash equivalents, higher than the Y408 billion it began the financial year with.
In its outlook, the carrier says it expects to post a modest net profit of Y45 billion in the year ending 31 March 2023, as it expects travel demand to continue tracking upward.
It is targeting full domestic recovery by the end of 2022, with international passenger demand to average around 45% pre-pandemic levels. JAL also expects its cargo business to continue to perform strongly
Japan eased domestic pandemic measures in March as new infections went down, prompting a surge in travel demand across the country. However, its international border controls remain restrictive, though there are indications it could ease up in the coming months.