Jet Airways has received its air operator certificate (AOC) from India's civil aviation regulators, a significant milestone that paves the way for its eventual re-launch.
The carrier, which collapsed in 2019 after running out of cash, expects to restart operations in the third-quarter of the year, according to local media reports.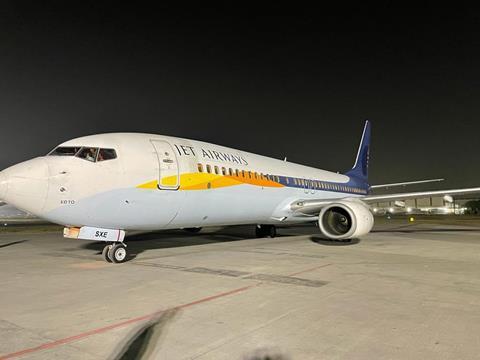 The revalidated AOC - issued by the Directorate General of Civil Aviation (DGCA) on 20 May - follows a series of proving flights the airline conducted.
Jet Airways completed its first test flight with a Boeing 737-800 on 5 May, before going on to schedule a series of proving flights with the DGCA.
According to media reports, Jet is expected to name its senior management team in the coming days, as well as unveil its fleet and network plans.
The airline is headed by Sanjiv Kapoor, an industry veteran who was formerly chief strategy and commercial officer at Vistara, as well as SpiceJet's operations head before that.
A debt-laden Jet Airways suspended operations in April 2019 after running out of cash. A resolution plan from new owners Murari Lal Jalan and Kalrock Capital received court approval in June 2021, paving the way for the airline's revival.
Its imminent re-launch comes as India's airline sector presses on with recovery from the coronavirus pandemic, which hit the country particularly hard in the middle of 2021.