JetBlue Airways and Qatar Airways are expanding their partnership to include more codeshares and streamlined flight schedules.
The New York-based carrier said on 24 March that its new collaboration will "provide more options to travel between JetBlue's 100-plus destinations across North America and the Caribbean and Qatar Airways' global network of 82 countries".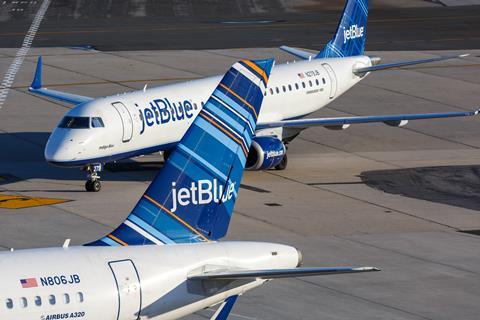 "For more than a decade Qatar Airways has been an excellent partner, consistently delivering an elevated customer experience that aligns extremely well with the JetBlue brand and the expectations of our customers," says JetBlue chief executive Robin Hayes.
"The enhancements and plans for growth announced today will put Qatar Airways on track to be our largest internationally-based partner."
Akbar Al Baker, Qatar Airways chief executive adds: "We have focused on growing our partnerships with leading airlines such as JetBlue by bringing significant benefits to our passengers through an expanded global network."
The carriers will also link their loyalty programmes, and in the future will allow customers to redeem points on each other's flights.
Qatar is a member of the Oneworld airline alliance, which JetBlue partner American Airlines leads in North America.
JetBlue and American are forging ahead with their so-called "Northeast Alliance", despite a lawsuit brought by the US Department of Justice claiming the tie-up is stifling competition in those markets.
In September, the Department of Justice (DOJ) sued in US federal court to force American and JetBlue to stop their partnership, alleging the pact violates the Sherman Act, an anti-trust law.
The suit, filed in US District Court for the District of Massachusetts, claims the partnership hinders competition and harms consumers. DOJ also said the pact gives American too much sway over JetBlue, and threatens JetBlue's ability to remain a successful low-fare counterweight in an industry that has significantly consolidated.
JetBlue and Qatar have been interline partners since 2011.