JetBlue Airways' head of treasury and investor relations Ursula Hurley will become acting chief financial officer effective 12 June.
Hurley will succeed CFO Steve Priest, who will leave the New York-based airline on 11 June "to pursue a new opportunity", JetBlue said on 17 May. Priest has been CFO since February 2017.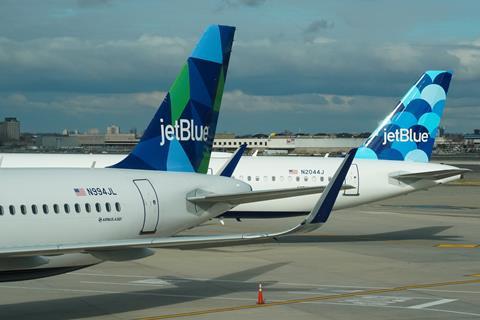 Hurley has worked for JetBlue for 17 years, holding positions including vice-president of structural programmes, manager of corporate finance, interim director of investor relations and manager of financial planning and analysis, according to her LinkedIn Page.
Her roles at JetBlue have included responsibility for corporate functions including debt and cash management, fuel and interest-rate hedging, and fleet strategy, including sourcing of aircraft and engines, JetBlue says.
"Her work helped position JetBlue with one of the industry's strongest balance sheets going into the pandemic," JetBlue chief executive Robin Hayes says.
"Over the past year, she successfully led our efforts to preserve our liquidity position, and is the perfect leader to support this transition as we begin to repair our balance sheet and return on a path towards industry-leading margins."
Priest "leaves JetBlue in a place where the company is well positioned to continue our recovery and to emerge stronger than before", Hayes says.
Priest has worked at JetBlue since 2015, when he took the position of vice-president of structural programmes, a job with responsibility for fleet programmes and sourcing.
Earlier, Priest worked at British Airways, most recently as senior vice-president of that carrier's transatlantic joint business with American Airlines, Iberia and Finnair.