JetBlue Airways swung to a $64 million profit in the second-quarter of 2021, a result reflecting US government Covid-19-related aid and an improving air travel market.
The result compares to a loss of $320 million in the same period of pandemic-hammered 2020.
"In the second quarter, we saw strong signs that consumer confidence and travel demand is returning, with second-quarter revenue doubling compared to the first quarter," says JetBlue chief executive Robin Hayes.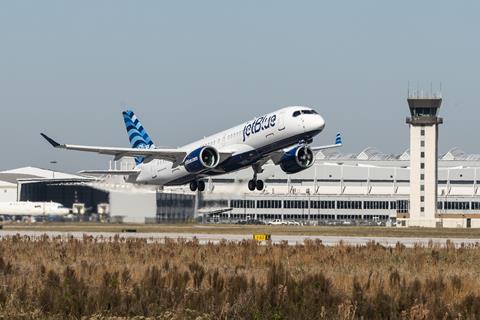 Excluding special items, which include government payroll-support grants, JetBlue would have lost $206 million in the second quarter.
The New York-based airline generated $1.5 billion in operating revenue during the second quarter, nearly six times more than in the second quarter of 2020.
The airline's second-quarter 2021 operating expenses came in at $1.4 billion, roughly double the second-quarter 2020 figure. JetBlue's operating expenses in the second quarter were reduced by $366 million due to the special items, which included the government aid.
"We are pleased to see further month-on-month improvement into the peak summer months, with demand momentum across all of our geographies," says JetBlue president and chief operating officer Joanna Geraghty.
JetBlue's load factor at the end of the second quarter was in the mid-80% range, and its capacity, measured in available seat miles, came close to reaching the second-quarter 2019 figure.
JetBlue expects its third-quarter revenue will be down only 4-9% from the third quarter of the pre-coronavirus year of 2019, with capacity in available seat miles to be comparable with the 2019 figure.