Preparing to consume a rival low-cost airline amid concern from federal antitrust regulators, JetBlue Airways has reported a third-quarter profit of $57 million.
By comparison, the carrier posted a $130 million profit in the third quarter of 2021, buoyed by $186 million in US federal government aid.
JetBlue reports revenue of $2.6 billion for the three months ending 30 September, up 30% from $2 billion in the same period of 2021, the airline says on 25 October.
"Revenue was above the high-end of our initial outlook as strong leisure and visiting-friends-and-relatives demand trends continued through the quarter," the company says.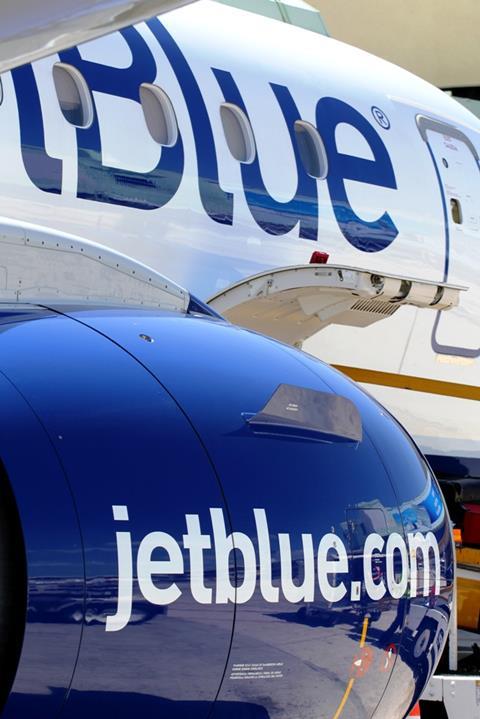 JetBlue earned 18 cents a share in third-quarter 2022, down from 40 cents last year.
The company's lower year-on-year profit comes despite its third-quarter revenue per available seat mile increasing 30% from the same period of 2021. Operating expenses played a role, jumping 36% year-on-year in the third quarter to $2.4 billion, with fuel costs up 86%. Passenger capacity, meanwhile, was half a percent lower than in pre-pandemic 2019, and roughly flat year on year.
Hurricanes Fiona and Ian had a neutral impact on New York-based JetBlue, as revenue was offset by temporarily reduced capacity, the company says.
Chief executive Robin Hayes says the results reflect a "strong operational performance over the summer peak, despite significant weather and air traffic control challenges and record customer demand".
The financial report comes after JetBlue Airways' $3.8 billion bid to purchase Spirit Airlines was approved last week by Spirit shareholders. The acquisition – pending approval from federal regulators – would position the JetBlue-Spirit combination as the USA's fifth-largest airline behind American Airlines, Delta Air Lines, Southwest Airlines and United Airlines, Hayes said in July.
"I'm extremely pleased with the recent Spirit shareholder approval for our combination," Hayes says. "Together, we'll build a low-fare challenger to the dominant 'big four' airlines on a national scale."
Hayes defended JetBlue's Northeast Alliance (NEA) with American Airlines, which has been scrutinised during trial proceedings in Boston, where the airlines have defended against a US Department of Justice lawsuit seeking to unwind their alliance. Antitrust regulators have expressed concern with JetBlue's plan to swallow Spirit.
John Kirby, Spirit's vice-president of network planning, testified in Boston on 30 September that "competition is harmed" by the American-JetBlue alliance.
"Our Northeast Alliance, which has been up and running for more than a year and a half, is fundamentally about growing capacity and consumer choice, and it has promoted competition in both New York and Boston," Hayes says.
He touted the NEA as "delivering substantial consumer benefits" with additional routes and flight frequencies.
"Again, this growth would not be possible without the NEA," Hayes adds. "Consumers are benefiting from the clear competitive response that we have stimulated."
By the end of this week, Hayes says JetBlue will add another New York-London flight, giving it five combined daily flights from Boston and New York to London.The company expects to take delivery of a handful of long-range Airbus A321s before the end of the year to support that expansion.
"As we continue to restore our pre-pandemic earnings power, we continue to see a very healthy environment with no signs of slowing for air travel," Hayes says.
JetBlue finished the third quarter with some $2.3 billion in unrestricted cash, cash equivalents, short-term investments and long-term marketable securities, down from $2.9 billion at the end of 2021, it says.