Kenya's government is aiming to end the requirement for further state financial support for Kenya Airways by the end of the year under a turnaround plan being implemented.
The loss-making carrier required state support after the pandemic wiped out international travel markets and to support a major restructuring effort.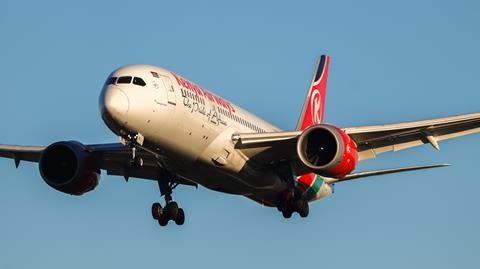 A report from the International Monetary Fund, which cleared fresh financial support to Kenya in December, flagged that in addition to taking on $827 million of Kenya Airways' debt, the Kenyan government would provide $473 million in support to the carrier over the current and previous financial year to clear overdue payment obligations and cover the upfront costs of restructuring.
In a draft 2023 budget policy announcement published on 18 January, Kenya's national treasury outlined its intent to end the airline's dependency on state support.
"Kenya Airways had demonstrated that Kenya could become a global aviation hub," it says. "To support the aviation industry, the government will develop a turnaround strategy for Kenya Airways.
"A critical plank of this strategy will be a financing plan that does not depend on operational support from the exchequer beyond December 2023."
Kenya Airways' ongoing restructuring has included reducing its network, trimming back and renegotiating deals with aircraft lessors, as well as seeking labour savings. Progress on the latter has been harder to achieve and relations with pilots soured during strike action, which only ended in November following a labour court intervention.