Sixteen third-party lessors have exposure to Malaysia Airlines, which earlier this month announced an "urgent restructuring exercise" that would include a "drastic" relook at its network and fleet plans.
Leasing executives from some of those lessors, who spoke to Cirium on condition of anonymity, are not happy about the plan, which could see some of them forced to take haircuts. Cirium understands that the flag carrier informed lessors about the restructuring in September, before making the plans public.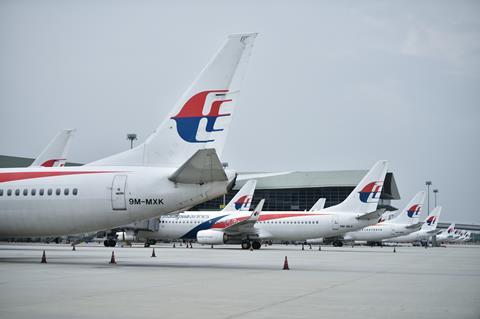 One lessor says the plan would result in a negative situation for at least some of the carrier's lessors. The company's ask this time around is quite the step up from the rental deferrals it, like many other carriers around the world, had requested earlier on in the pandemic.
"What the airline had been asking for before is much like the other airlines: it's simply help on their lease arrangement, and by that, I mean a delay on paying rent," he says.
"Of course, [now] it's a completely different thing. Right now, they are talking about a restructuring of the airline and all agreements they have and getting lessors to buy in. The effect would be a lot more dramatic than, say, three months rental deferral."
RECENT OVERHAUL
Malaysia Airlines is no stranger to restructuring, having undergone an extensive overhaul in 2014.
That year, two freak accidents – one of its Boeing 777-200ERs disappeared and another was shot down – exacerbated the carrier's financial difficulties, leading it to announce a radical 12-point recovery plan.
A key feature of that restructuring was the creation of a new entity, Malaysia Airlines Berhad (MAB), to which the assets of the old company, MAS, including leased aircraft, were transferred.
The process took years to complete, with negotiations over the carrier's JOLCO aircraft not being finalised until 2018, according to a person close to the matter.
Just two years down the line, the Covid-19 black swan swooped in, blighting what progress the carrier had made. The pandemic not only hurt Malaysia Airlines, but basically every other carrier in the region and the world.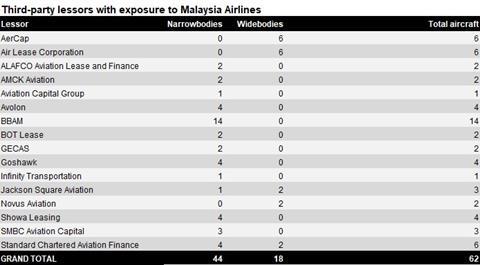 Judging from the response so far, Malaysia Airlines' latest attempt to restructure is no easier.
Newswire Reuters reported on 10 October that lessors claiming to represent 70% of the aircraft and engines leased to the airline group have called the plan "fatally flawed" and pledged to challenge it. On 16 October, Malaysia Airlines told staff in a memo that the talks are taking "longer than expected".
Shareholder Khazanah Nasional has also piled on the pressure. The sovereign wealth fund has said that if Malaysia Airlines cannot reach an agreement with its creditors, it could cease funding the carrier and instead inject funds into Firefly, a Malaysia Airlines subsidiary with 12 ATR72-500s, and potentially make that airline the national carrier.
UK RESTRUCTURING
Among lessors, there is also confusion as to why a Malaysian carrier has decided to restructure under Part 26A of the UK's Companies Act 2006, the same used by British carrier Virgin Atlantic in its restructuring.
"I don't know why Khazanah or MAB decided to go through with this. It's certainly not been tested for someone whose operations are mainly outside the UK," the lessor source tells Cirium.
A second lessor says: "Basically, in very short terms, lessors are very much objected to the UK restructuring."
A person close to the restructuring process says that part of lessors' objections may stem from the fact that the airline is "trying to slice and dice their creditor base", adding that by using this legislation the airline can cram out creditors who disagree with the plan.
Part 26A of the UK's Companies Act 2006 is attractive to Malaysia Airlines because it only requires approval from one class of creditors, rather than all creditor classes, the person says.
"Even if the others dissent they can be crammed out."
He goes on to say that the airline is asking lessor creditors on a first-come, first-served basis to accept its terms for their aircraft. Those that accept early enough will be placed in a "continuing lessors" group, while those that object or are too slow will be placed in the "non-continuing" group.
The airline then expects the continuing class will vote 100% in favour and the non-continuing will vote 100% against. However, since consent from only one class of creditors is required, the objections of the non-continuing group will not be able to derail the process.
"They are not going out to lessors with the plan saying 'vote in favour; vote against'. They are going to lessors saying, 'Who wants to be a continuing lessor at these prices?' then they will construct the plan based on who is continuing and who is not."
The person adds that the cramdown has been targeted at international creditors and not domestic creditors, which has irked some international lessors who do not view it as equitable treatment.
"They have identified two pools of creditors: one is their international operating and finance lessors and secondly the MROs, and they have carved them out from the rest of their creditors from Malaysia," he says, adding that lessors are of the opinion that all creditors should be offered the same deal regardless of where they are based.
BETTER THAN AIRASIA X
The same source also argues that Malaysia Airlines restructuring under this act could set a precedent that would be disadvantageous to lessors, especially during the Covid-19 pandemic when many airlines will be shopping around for the best jurisdiction to restructure.
"If they let MAB get away with dumping all the aircraft they don't want using a UK [act], what's to stop every other Tom, Dick and Harry in the airline world trying the same?"
Despite that, he tells Cirium that lessors are likely to get a better treatment than with fellow Malaysian carrier AirAsia X.
AirAsia X is also seeking to restructure, locally through the High Court of Malaya under Section 366 of Malaysia's Company Act. It proposes to restructure approximately MYR63.5 billion in debts into an "acknowledgement of indebtedness" of up to MYR200 million principal.
With Malaysia Airlines' restructuring, the same person tells Cirium, "people who are willing can stay in the party" and be placed by the airline in the continuing class of creditors. With AirAsia X, however, "everybody is getting terminated".
While both restructurings put lessors in a bad situation one way or another, at least one lessor believes that as bad as it is going to be for his company, there are not many alternatives for Malaysia Airlines given the strict travel restrictions in its home base.
"Malaysia is a country that is pretty much locked up from international connection until at least 2021," he says. "Given the situation, what can you do?"
Analysis by Michael Allen of Cirium