The restructurings of long-haul low-cost carrier AirAsia X and its short-haul cousin AirAsia are making progress, but lessors have doubts about the carriers' ability to secure the fresh funds they need to make new business plans work.
On 2 June, AirAsia X and its restructuring adviser Seabury Capital held a virtual town hall during which they outlined plans to slash the airline's orderbook and refocus its route network, but new details on a crucial equity fundraising were lacking, according to three lessors who attended the meeting.
"I've been hearing now for six months minimum that 'Oh, it's coming, it's coming – don't worry – you'll be pleased when you see it'. Yeah, we will be pleased – but we need to see it," says one.
"If they don't get any money pumped into this airline soon, what's the point of trying to do all this [restructuring]?"
A second lessor who attended the meeting says: "They did provide quite a detailed [view] of their future plans, but from our perspective, the fundraising part still remains unclear."
ORDERBOOK REJIG
According to a presentation slide from the meeting, obtained by Cirium, the carrier proposes restructuring both its Airbus A330neo and A321XLR orderbooks "to avoid unsupportable capacity growth and financial strain".
The carrier wants to reduce its 78 firm A330neo orders to 15. Deliveries to AirAsia X and Thai AirAsia X would not commence before 2027/2028.
Back in October, AirAsia X said it planned to operate a fleet of "up to 25" A330s.
It intends to make one-for-one replacements of its A330ceos, inducting one A330-900neo for every A330ceo lease that "rolls off" until 2032, according to the presentation slide.
In addition, it wants to reduce its 30 firm A321XLR orders to 20. Those deliveries should not commence until 2027.
"Smaller aircraft [are] better suited for opening new destinations, [and provide] greater flexibility to respond to demand fluctuations," the airline says in the slide.
These two orderbook reductions combined would lead to net present value cost savings of $5 billion, it estimates. There would be no aircraft capital expenditure until "modest PDP [pre-delivery payment] obligations" begin in 2024.
Cirium fleets data shows that AirAsia X has 22 A330-300s, although all bar three are in storage.
"They have been engaged in limited cargo operation, so they will continue to do that throughout this year," says a third lessor who attended the meeting.
The airline intends to operate 17 of the aircraft by 2023 as part of its restructuring plan, reintroducing them into service in stages from 2022, the person says. Lessors were informed of this prior to 2 June's virtual meeting.
"I would say there were really not a lot of surprises given a lot of this information had been communicated before," the person says.
For the remaining five aircraft, AirAsia X has proposed potentially sub-leasing these down to Thai AirAsia X, according to the three lessors.
FOCUS ON PROFITABLE ROUTES
The lessors say that during the virtual meeting, the airline indicated its intent to move away from its pre-Covid strategy to expand market share and instead focus on profitable routes.
"What they have communicated is they are prioritising profitability rather than market share," says one. "This is pretty consistent with what they have communicated in their restructuring process."
Another argues that airlines can only partially determine the profitability of routes ahead of launching them.
"How do you know a route is going to be profitable until you've flown it for a few months?" he says.
"And then if you're losing money on it, are you then going to pull out after you've sunk all that money into that route and say: 'No, it doesn't work'? Or are you going to continue [flying it] and make more losses, and then after a year say: 'Oh, actually it doesn't work; yeah, we're not going to fly that route' – and by then you've built up tens of millions of losses."
WHAT'S NEXT FOR AAX?
A 19 February judgement from the High Court of Malaya in Kuala Lumpur gave AirAsia X the go-ahead to convene a creditors' meeting to vote on its restructuring under a scheme of arrangement.
AirAsia X plans to hold that meeting in late July or August, it said on 1 June. Lessors' understanding is that the precise timing depends on how the airline's negotiations with creditors go.
One lessor says his company has received for review a term sheet from the airline regarding its leased aircraft, and comments: "The terms were onerous. We're certainly not going to do those numbers, so we'll review that and then get back to them.
"I think the majority of the terms are the same [for each lessor], but obviously there are just some slight subtle differences between them. There's like two years of PBH [power-by-the-hour]… There's all sorts of terms they're looking for."
By-the-hour contracts have commonly been requested amid the Covid-19 pandemic, as financially stretched carriers seek to pay only for the time they use the aircraft rather than a flat monthly fee.
AirAsia X's adviser Seabury Capital is also involved in other restructurings in Southeast Asia, including that of Philippine Airlines, a restructuring that lessors have generally praised as being relatively well-run.
In the AirAsia X restructuring, two of the lessors who attended the meeting say Seabury's involvement has increased the professionalism of the process, although not much of the substance of the restructuring has changed since the adviser came on board.
"The difference is it's just in a nice comprehensive pack," says one.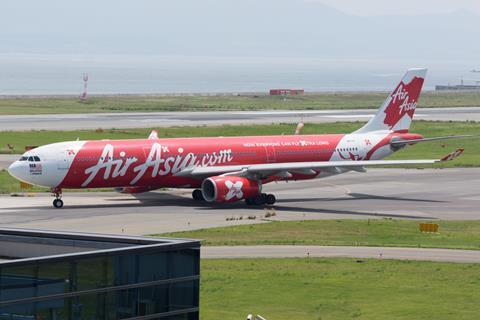 The third lessor believes many lessors are willing to engage with the airline and Seabury "constructively", and notes: "I think Seabury has helped to rein in the company to provide some structure to the process and some new ideas to how the restructuring can be done.
"They have not been as engaging as we would have liked, but, overall, versus the previous discussions with AirAsia X, it's an improvement – but it was from a low base."
However, "there are likely some lessors that are still holding out, and we do need more information about their discussions with Airbus and Rolls-Royce and how that will impact the company's overall financing position".
The person adds: "They discussed in a positive light their dialogue with Airbus thus far in terms of restructuring their commitments, but they did not really touch on their discussion with Rolls Royce, so this remains a question outstanding."
According to AirAsia X's calculation, Airbus is owed more than 75% of all debts by way of compensation for uncompleted aircraft ordered by the airline, the 19 February court judgement shows.
The third lessor says that during the 2 June presentation, AirAsia X said Airbus and Rolls-Royce had been supportive during discussions relating to the restructuring.
Neither Airbus nor Rolls-Royce would comment when contacted by Cirium. Both note that the process is "ongoing".
Overall, lessors remain on the fence about AirAsia X's business plan and say they need to see it in action to believe in it.
"Not that I'm speaking for everybody, but I suspect every lessor has got the same view [which] is: does, ultimately, widebody LCC work?" says one.
"That's the question I think we're all sort of wrestling with. It all sounds fantastic, what Seabury has put together, but the proof will be in the eating, won't it?"
Cirium has contacted Seabury for comment.
LEASE RESTRUCTURINGS
There has, meanwhile, been progress in the ongoing negotiations between short-haul carrier AirAsia and its lessors over the restructuring of lease agreements, according to two people involved in the negotiations.
"It does look now that there are more meaningful negotiations happening," says one.
"There's been more traction in discussions. Before, there had been a lot of chat but not much pen to paper, whereas now it looks like they are reaching the stage of pen to paper."
Cirium understands that at least one major lessor is in the documentation stage of amending its lease agreements with AirAsia.
A second major lessor to AirAsia tells Cirium it is making good progress in its own negotiations with the carrier, but has not reached the documentation stage yet because there are still a few sticking points: "We're moving along. In fact, we're in what I would call probably the final stages, but we just can't get it over the line because we need something back from them."
Cirium fleets data indicates AirAsia and its regional affiliates have 187 aircraft on lease from 25 lessors. Excluding affiliates, the count is 58 aircraft on lease from 10 lessors.
AirAsia and its regional affiliates' biggest lessors include BBAM with 62 aircraft, Aircastle with 21 and Avolon with 17, according to Cirium fleets data.
"Obviously AirAsia is not going to be able to discuss with everybody all the time, so they are probably working down their lessor list by size," a source suggests.
As with AirAsia X's restructuring, lessors are awaiting more information on AirAsia's fundraising plans.
"They're supposed to have some funding come through from two large US funds which we're waiting to get the details on," says one person involved in the negotiations. "They're telling us it's half a billion dollars." But they add: "The reality is that nothing has come through yet."
Cirium has contacted AirAsia Group for comment.
Analysis by Michael Allen of Cirium