The owner of LOT Polish Airlines has agreed to purchase former Thomas Cook Group subsidiary Condor.
The German leisure airline said on 24 January that the deal with Polish Aviation Group (PGL) secures "our future in the long term".
"We are pleased that Condor, Germany's most popular leisure airline, has gained in the PGL and LOT stable, experienced and dynamically developing partners who secure the future of our business," says Condor chief executive Ralf Teckentrup. "Together we will serve twice as many passengers, thus forming one of the largest aviation groups and the leading leisure airline group in Europe."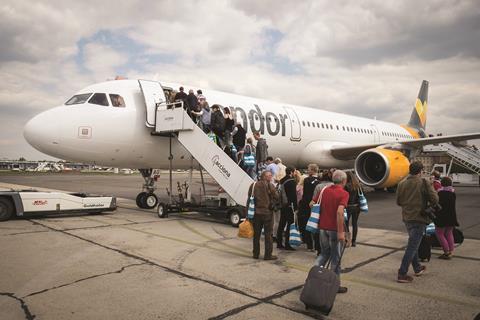 The Condor brand will be retained, along with "its successful management team", PGL states.
"Condor will become the centre of PGL's leisure strategy with a focus on growth in Germany as well as adjacent markets, building one of the leading European leisure airlines," the Polish group adds.
A bridging loan of €380 million ($419 million) provided by German state bank KfW – needed because Condor faced an "acute liquidity shortage" as a result of Thomas Cook's collapse – will be repaid as part of the agreement.
PGL's purchase of Condor is expected to close by April 2020, "once customary antitrust approvals are obtained and Condor exits the protective shield proceedings".
Neuer Eigentümer für Condor: Unsere Zukunft ist gesichert! Für Kunden ändert sich nichts. Condor bleibt Condor in gewohnter Qualität und mit unserer starken Marke. Alle Infos: https://t.co/52PCZJ2IMB #thanksaLOT pic.twitter.com/UJNS8JGlC2

— Condor Airlines News (@Condor) January 24, 2020
Condor's future had been uncertain before the collapse of its parent in September 2019. In May, the leisure carrier announced it had received several bids for the business – including from Lufthansa Group.