Lufthansa Group posted a positive adjusted operating profit for first since the pandemic and expects to avoid cash drain in the seasonally tough final quarter of the year.
The European airline group recorded an adjusted EBIT of €17 million ($20 million) for the three months ending 30 September - or €272 million excluding restructuring costs. The return to the black was driven by record profits at its freight operation Lufthansa Cargo and by a turnaround at budget unit Eurowings.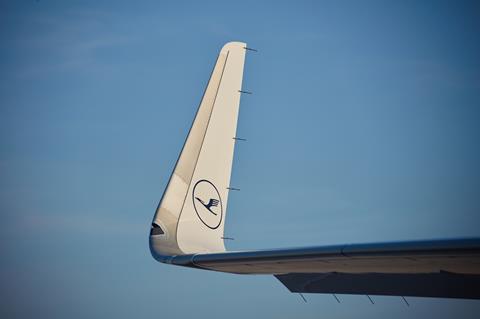 Lufthansa Group chief executive Carsten Spohr says: "With rising demand for business travel and a record result of Lufthansa Cargo we have mastered another milestone on our way out of the crisis: We are back to black."
Lufthansa Cargo recorded an adjusted EBIT of €301 million, while Eurowings returned to profit in posting an EBITt of €108 million as demand for leisure travel returned.
Lufthansa Q3 adusted EBIT by division
| Division | Q3 2021 | Q3 2020 |
| --- | --- | --- |
| Network carriers | -€450m | -€1,234m |
| Eurowings | €108m | -€108m |
| Lufthansa Cargo | €301m | €169m |
| MRO | €61m | -€86m |
| Catering | €35m | -€74m |
| Other | -€47m | €45m |
| Consolidation | €9m | €26m |
| Total | €17m | -€1,262m |
The group's network carrier operations remained loss-making in the quarter, recording a loss of €450 million for the period. That though was sharply down on the €1.2 billion these carriers lost at the same stage last year.
Overall, Lufthansa was helped to a group operating profit by positive performances among other group units including its MRO operations.
However Lufthansa Group still posted a net loss of €72 million for the third quarter.
Lufthansa capacity in ASKs increased to around 50% of pre-crisis levels in the third quarter, as the group carried 19.6 million passengers. Further opening up of travel markets, including the key US market, is further boosting demand.
"At the end of the third quarter, new bookings had already reached around 80 per cent of the 2019 level," the airline says. "Tickets in the premium classes are particularly in demand. A significant increase in the share of business travel is apparent across all travel classes."
It plans to operate capacity at around 60% of pre-crisis levels in the final quarter and expects group EBITDA to be positive - even including around €80 million in restructuring costs.
"The group therefore expects to be able to avoid operating cash drain even in the seasonally challenging final quarter. Therefore, for the full year 2021, the Lufthansa Group continues to expect a year-on-year increase in group revenue and to reduce the adjusted EBIT loss to less than half of prior year."