Lufthansa Group will cut capacity to no more than a quarter of previous-year levels for the rest of the 2020 after disclosing a third-quarter net loss of almost €2 billion ($2.3 billion).
Amid the continued impact on demand from travel restrictions the group says its airlines will offer a maximum of 25% of last year's capacity from October to December. "This consistent capacity reduction will ensure that flight operations continue to make a positive contribution to earnings," it says.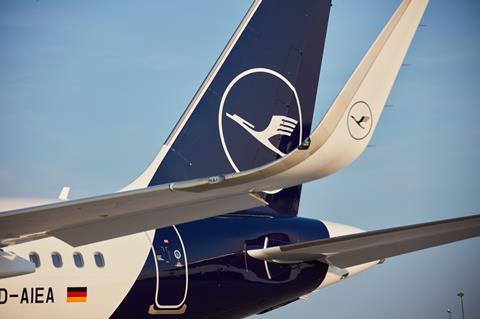 Lufthansa Group says that over the winter flight schedule, it will operate 125 fewer aircraft than originally planned. In administrative areas, only activities that are necessary for operations, legally required or related to the necessary restructuring will take place.
Such measures will help the airline limit average monthly operating cash drain, excluding changes in working capital, capital expenditure and restructuring costs, to around €350 million in the fourth quarter.
Lufthansa Group chief executive Carsten Spohr says: "We are now at the beginning of a winter that will be hard and challenging for our industry. We are determined to use the inevitable restructuring to further expand our relative competitive advantage. We aspire to remain the leading European airline group following the end of the crisis."
The group posted an adjusted EBIT loss of €1.3 billion in the third quarter and net losses of €2 billion. This compares with an adjusted EBIT of €1.3 billion and net profit of €1.2 billion for the third quarter last year. Revenues were down 74% in the quarter to €2.66 billion.
"Strict cost savings and the expansion of our flight programme enabled us to significantly reduce the operating cash drain in the third quarter, compared to the previous quarter. Lufthansa Cargo also contributed to this with a strong performance and a positive result of €169 million," says Spohr.
"We are determined to keep following this path. We want to return to a positive operating cash flow in the course of the coming year. In order to achieve this, we are advancing restructuring programmes throughout the group with the aim to make the Lufthansa Group sustainably more efficient in all areas."
Lufthansa says the restructuring measures are expected to result in one-off costs in the fourth quarter. "Their amount depends primarily on the further progress of negotiations with the social partners," it says.
But Lufthansa says it remains on track to return to positive operating cash-flow during 2021. But it notes the prerequisite for this is that the pandemic eases sufficiently to allow for an increase in capacity to around 50% of pre-crisis levels.