Mexican regional carrier Aeromar Airlines has closed down after being unable to secure financial assistance.
The Mexico City-based airline said in a 15 February statement on its website that the decision results from being unable to fully recover from the Covid-19 pandemic.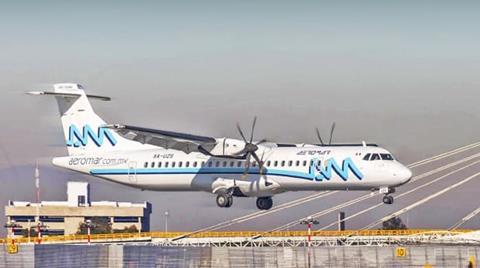 The airline operated turboprops – three ATR 42 and one ATR 72 – according to Cirium fleets data. It specialised in flying routes between Mexico City and the country's beach resorts, and served 21 destinations, most in Mexico, but also Havana, Cuba and the Texas cities of Laredo and McAllen.
The carrier says it worked with government authorities in past years to solve financial issues, but in the end was unable to continue operating. The carrier had 700 employees.
Shortly after the announcement, Mexican carriers Aeromexico, Volaris and Viva Aerobus offered to carry passengers holding Aeromar tickets – at no cost or sharp discounts.
"Today is a sad day for many," says Volaris executive vice-president for commercial and operations Holger Blankenstein. "We'd like to express our solidarity with the ground personnel… pilots and flight attendants, as well as all those others who made Aeromar a great regional carrier."
Aeromar was established in November 1987 and had operated longer without interruption than any other Mexican airline.