Turkish freight specialist MNG Airlines is to list on the New York stock exchange next year after signing an agreement to go public through a business combination with Golden Falcon Acquisition.
MNG says the move is designed to give it increased financial flexibility and to position it to "unlock new growth avenues and maximise value creation".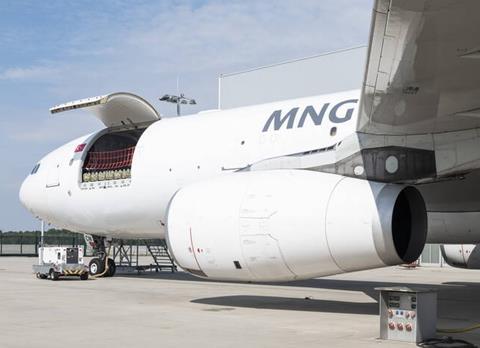 MNG Airlines chief executive Ali Sedat Ozkazanc says: "We see significant value creation potential from becoming a publicly listed company in the US, with the expectation that it will enable transformative commercial agreements, create an acquisition currency, and align management incentives with shareholders."
The deal with special purpose acquisition firm Golden Falcon is expected to close in the first half of next year.
In September, MNG took delivery of its second converted Airbus A330-300 freighter from modification specialist EFW. Cirium fleets data shows that MNG operates three A330 and five A300 freighters, and will add A321 freighters as part of a future expansion.
"We are currently developing transformation plans for 2024 and beyond. These include expanding our flight network and increasing cargo capacity with two additional A330-300P2Fs for which we have already secured slots with EFW," Ozkazanc said in September.
"Market demand and trends for short distance as well as the opportunity for higher fuel efficiency and lower cost per tonne have led us to the decision to complement our fleet with A321P2F in 2023 and 2024."
MNG's revenues for the 12 months ended 30 September stood at $353 million, up 39% on the same period a year earlier, while adjusted EBITDA stood at $116 million and net profit $61 million.
Golden Falcon chairman Scott Freidheim says: "At our initial public offering in December 2020, we communicated to investors that we intended to bring to them an established company in the Europe, Middle East and Israel region with a compelling track record, cash flow-generation, a clear transatlantic expansion nexus, a strong growth profile, and benefiting from market tailwinds.
"We're delighted to bring this differentiated investment opportunity to our investors as we believe MNG meets the attributes we laid out as key business combination criteria."