A new regional carrier called Connect Airlines plans to begin passenger flights in October between the USA and Toronto's Billy Bishop City airport.
The company behind Connect is Massachusetts-based charter specialist Waltzing Matilda Aviation (WMA). John Thomas, former group executive of Virgin Australia Airlines, is WMA's CEO.
The airline intends to link Toronto to Midwest and Northeast US cities using De Havilland Canada Dash 8-400 turboprops, it says.
"Connect Airlines will offer a premium service for day-tripping business travellers", providing "a valuable alternative to business travellers as they start to fly between the United States and Canada again", WMA says on 8 April.
"We are passionate about how aviation brings people, cultures and business together. Especially in these challenging times, we are committed to delivering the world's most-rewarding premium travel experience with safety, service, convenience and reliability," says Thomas.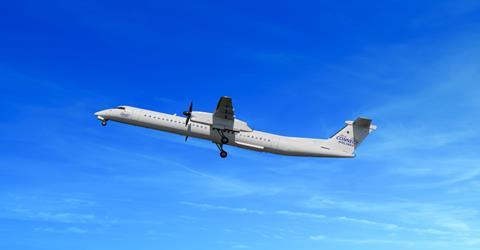 Connect's plan bears similarities to the strategy of Canadian carrier Porter Airlines, a Dash 8 operator that shut down amid the pandemic. Porter has most recently said it will resume flights on 19 May.
WMA, a charter operator, "has started the process to add [Federal Aviation Administration] Part 121 scheduled and non-scheduled services to its air operators certificate," the company says. Scheduled airlines operate under Part 121 rules.
The company "owns and operates both" its aircraft, WMA adds. The current fleet includes one Cessna Citation Bravo and one Citation Excel, according to WMA's website.
Still unclear is from where Connect intends to source Dash 8s.
A technology company called IBS Software will provide Connect with a "passenger-personalised website and mobile app", and fleet, crew, customer service, ancillary revenue, maintenance and engineering technologies.
Connect "has been built from the ground up as an agile, digital-first business with minimal fixed costs", WMA says.
Connect is taking a different path from two other start-ups set to launch in the USA this summer. Avelo Airlines, which began ticket sales on 8 April, and Breeze Airways, expected to launch imminently, will focus on the low-cost leisure segment. Both are anticipating that pent-up demand following a year of stay-at-home orders will float their operations.
Experts have said leisure travellers are beginning to plan trips again, but that the more-lucrative business travel segment will likely lag. Companies remain reluctant to send employees on business trips, and travel budgets remain curtailed.
This week, management consultancy Oliver Wyman predicted that business air travel will return to 2019 levels in 2023.
Canadian airlines have struggled amid the pandemic and Canada's resulting travel restrictions. Canada requires inbound passengers to quarantine at government-approved hotels, a move that has hampered the sector's recovery.
The US-Canada border has been sealed to non-essential travel since 21 March 2020, and US health officials recommend that US travellers – even those who are fully vaccinated – avoid visiting Canada.
Canada's government has not made any airline-sector-specific financial aid available to the industry.