Scandinavian low-cost carrier Norwegian has converted another €1.7 million ($2 million) of debt into equity after perpetual bondholders agreed to swap loans for shares.
The bonds are being converted into nearly 4.6 million new, freely tradeable shares in the company, states Norwegian in a 5 November notice to the Oslo stock exchange.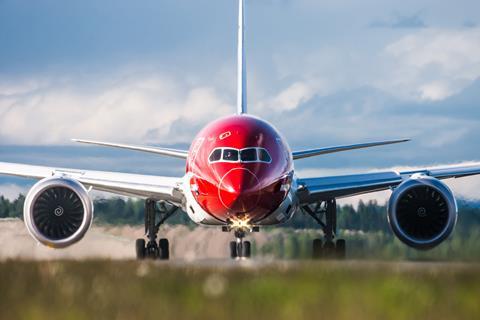 After the conversion, Norwegian will still have perpetual bonds worth about NKr2.2 billion ($239 million), which it says could be converted into 511 million ordinary shares at a conversion price of just under NKr4.25.
"Approximately NKr309 million of such perpetual bonds may during a two-week period from 4 June 2023 be converted at the volume-weighted average price of the shares at such time, rather than the conversion price," says the airline.
Its new share capital now amounts to just over 3.7 billion shares.
Earlier this year, Norwegian converted NKr12.7 billion of debt into equity as part of a financial restructuring which enabled it to access a NKr3 billion state-aid lifeline. The carrier said last month that it was "continuing to work with vendor repayment plans and possible further conversion of debt to equity".
Its latest conversion comes as it discloses a 90% drop in passenger numbers last month, compared with October 2019. Capacity was cut 93% and RPKs fell 96%. Load factor was down 32 percentage points at 55.3%.
"The pandemic continues to have a negative impact on our business throughout the autumn as travel restrictions remain and new ones are imposed across large parts of Europe," states Norwegian's chief executive Jacob Schram.
"As this pandemic will continue to affect travel for several more months, we will continue to adapt our route network in line with changing demand."
The airline says it operated an average of 21 aircraft in October, mainly on domestic routes in Norway.