Cash-strapped low-cost carrier Norwegian has filed for financial restructuring under Norwegian law in parallel to a similar process already under way in Ireland.
Norwegian initiated a formal financial restructuring for its Norwegian Air International subsidiary and aircraft leasing unit Arctic Aviation Assets, under an Irish examinership process, on 18 November. That process, under which Norwegian is itself protected as a related party, was formally approved by an Irish court yesterday.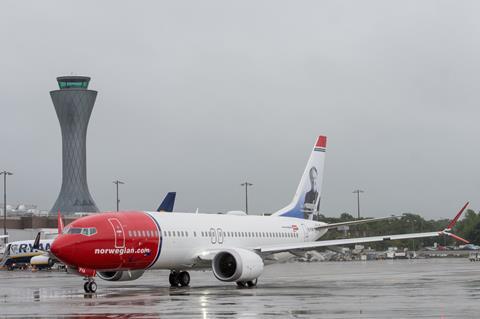 Now the airline has made a similar filing under Norwegian law, which it says will co-exist with the Irish examinership process.
Norwegian chief executive Jacob Schram says: "A supplementary reconstruction process under Norwegian law will be to the benefit of all parties and will increase the likelihood of a successful result. Our aim is to secure jobs in the company and to contribute to securing critical infrastructure and value creation in Norway,
"We will now concentrate on working towards our goal of reducing company debt, reducing the size of our aircraft fleet, and ensuring that we are a company that investors will find attractive. We will be ready to meet the competition for customers after the Covid-19 pandemic."
Norwegian on 3 December detailed plans for a new share issue intended to raise gross proceeds of up to NKr4 billion ($453 million), for which it will seek approval from shareholders at a 17 December meeting. The shares will be priced between NKr5 and NKr40.
The low-cost carrier will continue to operate during the formal restructuring processes, although it had already sharply cut back its services while it remains in 'hibernation mode', even before fresh travel restrictions in Europe
In November the airline carried just 125,000 passengers, down 95% on the same month last year. Load factors stood at only 44.4%.