Norwegian will run out of cash by mid-May if it does not secure the remainder of its state aid package, the Scandinavian budget carrier has warned in a report to bondholders which lays out plans for a "new Norwegian" that will not start to take off until 2021.
The airline is asking lessors to reduce its aircraft lease obligations by "at least" $500 million and convert debt into equity in a move that would eventually mean 53.1% of the carrier is owned by leasing companies and 41.7% by bondholders. Existing shareholders would hold just 5.2% of Norwegian's stock if its survival plan is accepted by bondholders.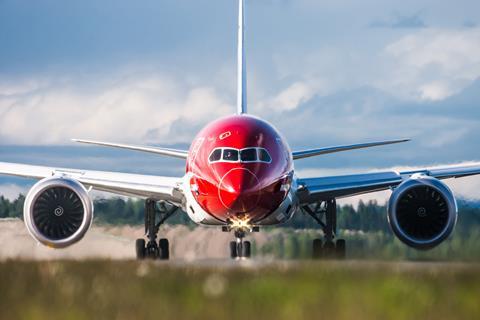 Norwegian says it will remain in a "hibernation phase" – in which 95% of its fleet is grounded and just seven aircraft are operating state-subsidised domestic operations only – until the second quarter of 2021, when a gradual ramp-up will begin.
It does not anticipate "normal operations" resuming until 2022, and the airline that emerges then will operate fewer aircraft and a "rightsized" network focused on the most profitable routes. The carrier forecasts that its fleet will reduce from 168 pre-Covid-19 aircraft to between 110 and 120 aircraft. The Nordic region will be the "cornerstone" of its operations and the airline says it will reduce capacity to match demand. Its long-haul network will focus on "top-tier cities" and "key flows" between the European Union and the USA.
The airline has already received NKr300 million ($28 million) in state funding from Norway's government as part of a bailout package worth up to NKr3 billion. However, the carrier must satisfy a number of conditions before it can access the remainder. These conditions include existing creditors agreeing to a three-month moratorium on outstanding payments, and the company cutting its debt-to-equity ratio.
Norwegian has already outlined its debt-to-equity conversion plan and a bondholders meeting on the proposal is scheduled for 30 April. The airline anticipates signing an agreement with lessors on 3 May and an extraordinary general meeting for shareholders is planned for 4 May.
Norwegian has operating leases and sale-and-leaseback agreements in place with 24 lessors and its leased fleet is comprised of 62 Boeing 737-800s, four 737 Max 8s and 25 787s. Outstanding liabilities amount to NKr33.3 billion.
If all goes according to plan and Norwegian accesses all of the NKr 3 billion state aid package, this should be sufficient to cover liquidity needs until the end of this year, says the airline. However, its warns that there could still be a "need for additional funds" and says it needs to attract an outsider investor.