Norwegian's shareholders have voted in favour of its plan to convert debt to equity and relaunch operations with a smaller fleet and fewer destinations from 2021.
The airline should now be able to access the rest of its NKr3 billion ($288 million) bailout package from Norway's government, which is conditional upon cutting its debt-to-equity ratio. Without state support, the airline has warned it will run out of cash by mid-May.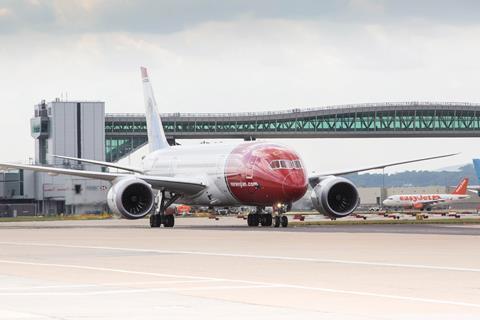 In a 4 May disclosure to the Oslo stock exchange, Norwegian says that 95% of shareholders voted in favour of all proposed resolutions.
"Based on the results from the extraordinary general meeting, the company will proceed with the private placements through conversion of bonds and lease debt to shares, as well as the public offering of up to NKr400 million," states the airline.
Earlier on 4 May Norwegian announced increased support from lessors for a minimum conversion to equity of $730 million – higher than the $550 million it announced on 1 May. It said the conversion was supported by a significant number of lessors and discussions continue with others over possible further conversion of debt to equity.
Talks with bondholders had continued over the weekend of 2-3 May after the airline failed to secure the required majority support for its proposal following a 30 April vote. On 3 May, Norwegian announced that a fresh proposal had received "robust support" from bondholders across all four bond issues, with combined support of 76% of the votes.
Under the airline's restructuring plan it will remain in a "hibernation phase" – in which 95% of its fleet is grounded and just seven aircraft are operating state-subsidised domestic operations only – until the second quarter of 2021, when a gradual ramp-up will begin.
It does not anticipate "normal operations" resuming until 2022, and the airline that emerges then will operate fewer aircraft and a "rightsized" network focused on the most profitable routes.