Norwegian is suspending a big majority of its services and laying off 7,300 employees as it seeks to weather the coronavirus outbreak.
"The Covid-19 situation is escalating by the hour and due to stagnating demand and enforced travel restrictions by authorities worldwide, Norwegian will gradually cancel most of its flights and temporarily lay off a major share of its workforce," the airline says.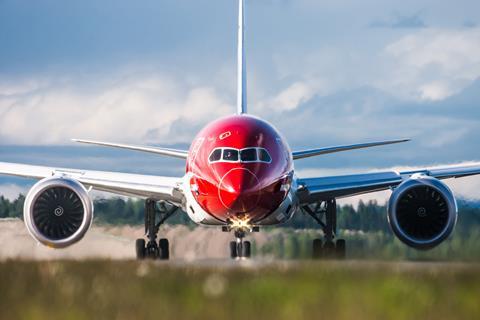 Calling the crisis "unprecedented and critical", Norwegian's chief executive Jacob Schram states that the carrier has no choice but to "temporarily" lay off 90% of its workforce, including pilots, cabin crew, maintenance and administrative staff.
"I want to emphasise that this is temporary, because when the world returns to normalcy my goal is to keep as many of our dedicated colleagues as possible," Schram stresses. He notes that the Norwegian authorities "have communicated that they will implement all necessary measures to protect aviation in Norway, consequently securing crucial infrastructure and jobs."
From 21 March, Norwegian will fly a reduced scheduled domestically in Norway and between the Nordic capitals, as well as some European flights. All intercontinental services are cancelled except between Scandinavia and Thailand, with the last flights scheduled for the end of the month.
On 13 March, the carrier asked the Norwegian government for an immediate bailout to enable it to keep flying.
In a note issued the previous day, HSBC had said it expected Norwegian to face "cash-flow challenges in the near term," given the dramatic deterioration in market conditions and the US ban on travellers from Schengen-area European countries.
"Suppliers will likely take a very cautious view towards Norwegian, exacerbating cash challenges," wrote the bank. "The likelihood of airlines being able to raise significant amounts of new equity in the present environment does not look high."