Troubled low-cost carrier Norwegian is abandoning its long-haul network as it sets out a scaled-back business model focused on Norwegian domestic, regional Scandinavian, and key European services.
"Our short-haul network has always been the backbone of Norwegian and will form the basis of a future resilient business model," states chief executive Jacob Schram. "By focusing our operation on a short-haul network, we aim to attract existing and new investors, serve our customers and support the wider infrastructure and travel industry in Norway and across the Nordics and Europe."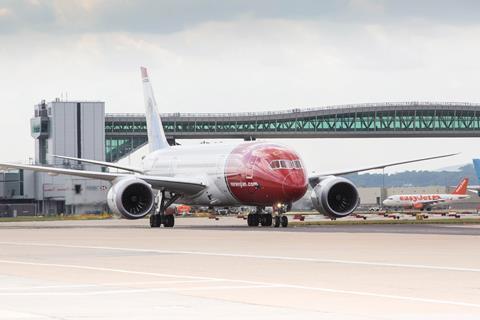 To kick-start its transformation, the company is aiming to reduce its debt to around NKr20 billion ($2.4 billion) and to raise around NKr4-5 billion using the combination of a rights issue to shareholders, a hybrid instrument, and a private placement, something it says it has attracted "concrete interest".
The carrier also hints at state involvement in its future: "Norwegian has recently reinitiated a dialogue with the Norwegian government about possible state participation based on the new business plan."
As part of its remodelling Norwegian will become an entirely short-haul carrier with 50 narrowbodies in 2021, rising to 70 in 2022. The company's entire fleet of Boeing 787s has been grounded since March 2020. Cirium fleets data shows that the group has 35 Dreamliners in storage.
Even before the pandemic, the company faced challenges in applying its low-cost business model to intercontinental services. Covid-19 has caused further pain for the long-haul sector, which has been disproportionately impacted by travel restrictions and customer unease about flying.
"Under these circumstances a long haul operation is not viable for Norwegian and these operations will not continue," says the airline. "The consequence of this decision is that the board of directors of the legal entities employing primarily long-haul staff in Italy, France, the UK and the US have contacted insolvency practitioners."
Following a decision by the Norwegian government to withhold support in November, the airline entered a court-supervised examinership arrangement in Ireland, which has since been supplemented by a parallel process in Norway.
Amid the pandemic, Norwegian has suspended the vast majority of its services and operated in "hibernation mode".